Plastic nation: Sale of plastic bags thrives despite ban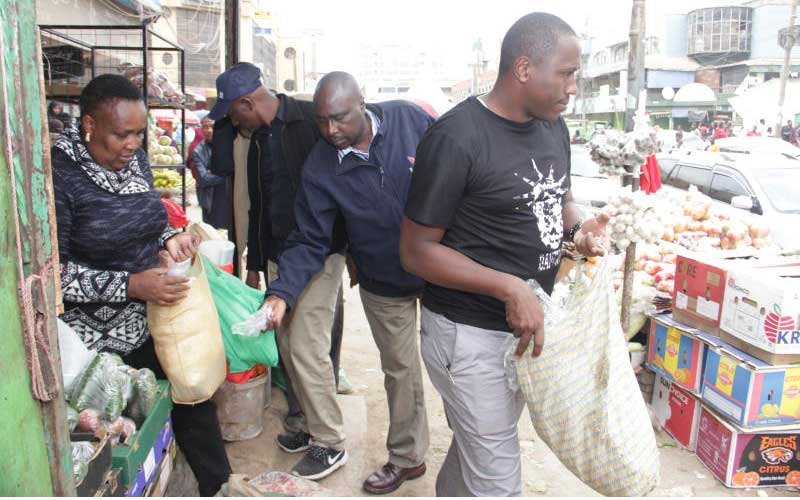 At 6pm along Tom Mboya street in Nairobi, a woman sits on the pavement, legs stretched out as she calls pedestrians' attention to her stock, peas and French beans packed in transparent plastic bags.
In Roysambu, Nairobi, another woman -- a mama mboga -- stuffs chopped kale into a plastic bag. Carrots, chilli and ginger are displayed in plastic bags.
Quietly, banned plastic bags have made it back to the streets, filtering in from neighbouring Uganda, Tanzania, Ethiopia and even Somalia.
Aided by weak enforcement, a Sunday Standard investigation has found, tonnes of the contraband polythene bags are making their way into Kenya, fueling a thriving black market.
Kenya banned the plastics on August 28, 2017 attaching hefty fines for those found in possession. Neighbouring countries such as Tanzania have taken Kenya's cue and imposed bans on polythene.
Yet the stiff fines and jail terms have done little to deter smuggling of plastic bags.
While it is now rare to see the customary plastic carrier bags floating in the wind or stuck on power lines or tree branches since the ban was imposed in 2017, polythene bags still remain a menace, albeit less pervasive than before.
A porous border and complicit enforcement officials willing to look the other way for some few shillings have conspired to push the trade of plastic bags underground where it is flourishing.
This week alone, impromptu raids by the National Environment Management Authority (Nema) on retail outlets in Kitui, Chuka, Embu, Meru, Kirinyaga and Isebania have resulted in the arrest of some 20 people and the recovery of tonnes of the polythene bags.
On Tuesday, two traders were arrested in a swoop in Tharaka Nithi County that uncovered some 10,000 bags of the banned polythene bags at Kibugua Market and Chuka Town.
Countrywide swoops
In Meru, officers arrested four traders and found bales of plastics at Gakoromone market and a number of shops at Meru town's main matatu terminus. Just a fortnight earlier, another stash of about 300,000 bags was found in the same town. Another seven people were arrested in Isebania on Thursday.
The axis of the illegal trade are street vendors and kiosk owners who were left without an affordable alternative when the Ministry of Environment banned the use, importation and manufacture of plastic carrier bags in 2017.
Without a viable or cost friendly alternative, small scale traders are being forced to risk the fines and jail terms to keep clients, some of whom insist on the packaging.
Anyone, including consumers, flouting the ban will face between one and two year jail terms or a fine of between Sh2 million and Sh4 million.
Yet in low income neighbourhoods in Nairobi and in rural areas, the proliferation of plastic bags continues.
For the small scale traders – the collateral damage in the fight to protect the environment – banning plastics goes beyond the well-being of the planet to their own survival.
In the world of cutthroat competition, lack of packaging means losing a customer and with that a highly depended upon income.
A trader in Kasarani said she lost clients due to lack of packaging and was forced to look for the plastics.It's a game of demand and supply. "If I don't provide the plastic bags, the buyers will move on to the next seller," she said.
"A lot of my clients are people going back home from work, they have no basin to pack the already cut vegetables and will move on to someone who has (polythene). I will have lost a client," she said.
The traders have developed a sixth sense to help them avoid arrest. If a client is unfamiliar, they will insist that they don't have anywhere to package.
A woman selling tomatoes initially said she didn't have any plastic bags but eventually offered one upon our insistence.
"You need to know who it is you are packaging for, you could be arrested by someone who is posing as an undercover Nema officer," she said.
Entry points
She buys the bags from smugglers and conceals them in a gunny bag inside her stall, from where she retrieves a piece whenever a customer needs it. For 100 pieces of the transparent plastic bags measuring 7cm by 12 cm, she pays Sh100.
When Sunday Standard asked for information to procure some of the polythene, she offered to link us up with her supplier.
We explained that we had established a bakery and needed the bags to package the cakes for distribution to shops since going through the proper channels to acquire permits for branded bags was too costly.
After a week, our source called back requiring assurance that we were not police officers. We assured her we weren't but at the last instance she grew cold feet and instead said her supplier couldn't meet us.
Away from Nairobi, border towns such as Busia, Malaba, Suam, Moyale, Namanga, Loitokitok and Mandera are the key entry points for the contraband.
Unlike in Rwanda, which imposed a ban on plastics 11 years ago, where all luggage into the country is checked, smuggling plastics into Kenya is as simple as walking accross the border.
At Sofia Market in Busia Town, smugglers are using tricycle wheelchairs to smuggle items into the country. According to Nema, blame lies on the porous borders.