State spending on security pays off as tourist numbers swell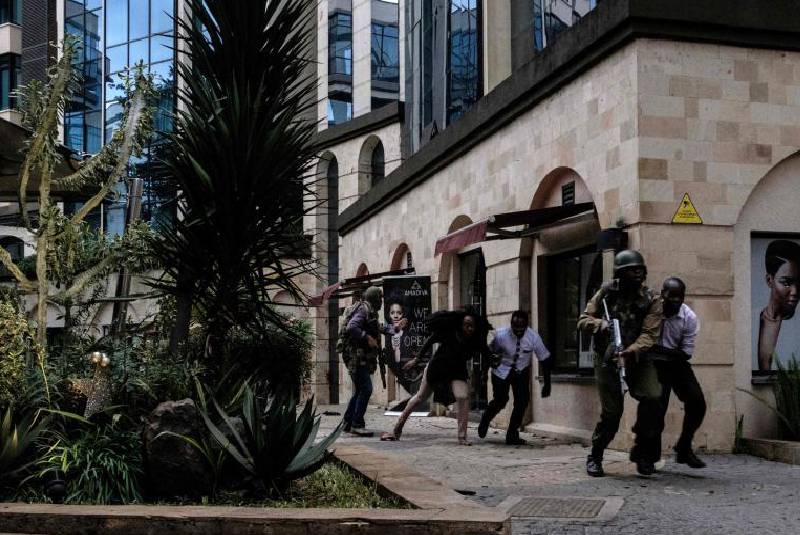 A terrorist attack is the last thing policymakers expected to happen this month. But it did. About 21 people - including six employees of technology company Cellulant - lost their lives at the DusitD2 Hotel on Tuesday.
It should not have happened. Over the last three years, government has poured billions of shillings, put in millions of hours to rebuild the country's reputation which had been battered by intermittent terrorist assaults.
Foreign tourists have started arriving in droves, and the numbers look unbelievably impressive.
After a series of attacks between 2011 and 2012, tourist arrivals dipped by a third from 1.7 million in 2012 to 2015, before they started a slow climb up to surpass the 2 million mark in 2018, according to official figures.
Terrorist attacks reduced significantly from an estimated total of 100 between 2011 and 2014 to less than 10 in the period between 2015 and 2018, an analysis by Weekend Business shows.
Travel advisories by several European governments also saw bed occupancy from Europe, Kenya's main source of tourists, decline from a peak of 2.5 million in 2012 to a low of 1.4 million in 2015.
But efforts by the government to market Kenya as a safe tourist destination saw the sector begin a slow but sure recovery, with the number of bed occupancy from Europe hitting a high of 1.7 million in 2017.
Revenue from tourism - a critical foreign exchange earner - also went up to Sh157 billion compared to Sh119.9 billion in 2017, as the country basked under the glow of a three-year peace dividend.
"In previous years, the numbers had gone down due to insecurity but the government has invested heavily in security, which has restored confidence in tourist source markets," said Tourism Cabinet Secretary Najib Balala recently.
Over half a trillion shillings has been poured into national security sectors of Defence and National Intelligence Service (NIS) between June 2013 and June 2018, with Defence receiving the most cash.
However, ever since the country started experiencing sporadic attacks, the government has invested heavily in intelligence, with NIS spending increased by more than 100 per cent from Sh15.7 billion in the financial year 2013/14 to Sh32.6 billion in the financial year to June 2018.
The investment seems to have been fruitful as the bombs stopped going off.
Dropped guard
Perhaps, with things looking so good, the government might have dropped its guard. Or this was just one among hundreds of attempted attacks that were thwarted by a well-oiled security machinery.
Nonetheless, in its annual policy statements, Treasury stopped citing possible terrorist attacks as one of the potential domestic risks to the economy, an indicator that things had improved.
In its 2018 Budget Policy Statement (BPS), Treasury said potential terrorist attacks may impose economic costs through "direct and indirect channels".
"The direct costs include loss of life and physical destruction, whereas the indirect costs include impacts on restriction of movement of people, consumption, investment and growth caused by terrorist attacks," its said.
"In particular, potential terrorist attacks have direct effect on tourism by reducing tourists' visits due to security concerns."
The government acknowledged that the costs, including loss of jobs had a negative impact on tax revenue from, increased State spending on security and peace restoration as well as redeeming the country's image hence risk to its fiscal framework.
However, Treasury did not single out terrorism as one of the risks to the country's balance of payments.
Instead, it only highlighted a raft of reforms put in place between 2016 and 2018, including the development of a counter-terrorism strategy that involves cooperation among all security agencies.
Other reforms include increased collaboration with local communities on security matters, modernisation involving acquisition of modern security equipment, and raising awareness to potential threats.
The BPS said the government has achieved enhanced surveillance system especially in urban areas, invested in street lighting in major cities and towns, established a command and control centre, expanded police training facilities.
"It has also acquired police patrol vehicles and motorbikes and vehicles for government officers and motorbikes for chiefs and assistant chiefs, enhanced connection of the Integrated Population Registration System to agencies and launch of e-passport," added Treasury.
President Uhuru Kenyatta and many other analysts believe things would have been worse at the DusitD2 were it not for the preparedness of the country's security personnel.
"Fellow citizens, for the last few years you have invested in our building a strong security system. It showed to great credit yesterday, but we also learnt that we can never take anything for granted," said Uhuru in his address to the nation a day after the attack.
The President and his team of policy makers will pray that the tourist numbers they have worked so hard to lure back will not melt away as a result of the latest incidence.
"You are safe in Kenya," he said.
Thumbs up
Most analysts have given the country's security forces a thumbs-up for the expeditious and strategic manner in which they reacted to the latest attack, evacuating over 700 people from the besieged building.
An achievement that was not lost on the President.
Yet at policy-making level, there is still a lot of soul searching to be done. While analysing the country's domestic risks, institutions such as the International Monetary Fund (IMF) and transactional advisors to Kenya's Eurondbond holders have until last year flagged terrorist attacks as one of the potential risks to the economy.
According to the IMF, the impact of a terrorist attack on the economy would be high. It would adversely affect the tourism sector, foreign direct investment and portfolio inflows.
Investors to the Eurobond notes which Kenya issued last year are also wary of a terrorist attack.
"If the level of instability, crime and violence, and unfavourable coverage of Kenya or Africa in the media, continues or increases in the future, Kenya's level of tourism and foreign investment, among other things, may suffer and potentially materially adversely affect Kenya's economy and its ability to service its debt, including the notes."
The IMF advises the government to strengthen its Anti-Money Laundering and Countering Financing of Terrorism laws to prevent funding of terrorist activities.
In 2017, Central Bank of Kenya (CBK) directed all banks to conduct a risk assessment exercise to determine their preparedness in fighting money laundering and terrorism.
Through a guidance note, the regulator said all banks would be required to develop a money laundering and terrorism financing (ML/TF) risk assessment framework.
"The board of directors and senior management of an institution are expected to formulate and implement ML/TF risk assessment framework. The framework must be documented and made available for review by external auditors and CBK," said CBK in a guidance note.
In addition, each bank would henceforth be required to appoint a money laundering reporting officer who would be the central point of contact with CBK.
By December 31 every year, banks are expected to provide CBK with a report on the results of their MT/TF risk assessment.
IMF, in a 2018 report, also advised the government to prioritise fiscal spending to accommodate security needs; and maintain policies to improve macro fundamentals such as structural and governance reforms.
In 2015, amidst several terrorist attacks, the government shut down a number of money remittance firms, arguing that they were conduits for terrorist funding.
The 13 firms were closed down in April after the horrific attack on Garissa University College in which 148 people were killed, mostly unarmed students.
And in October 2018, CBK said in a financial sector stability report that the majority of outfits offering digital loans know very little about their customers, making them vulnerable to being used by terrorists.
"There are concerns that increased usage of digital credit predisposes the economy to risks such as money laundering, terrorist financing and technology risks," said the report.