Busia farmers call for revival of collapsed ginneries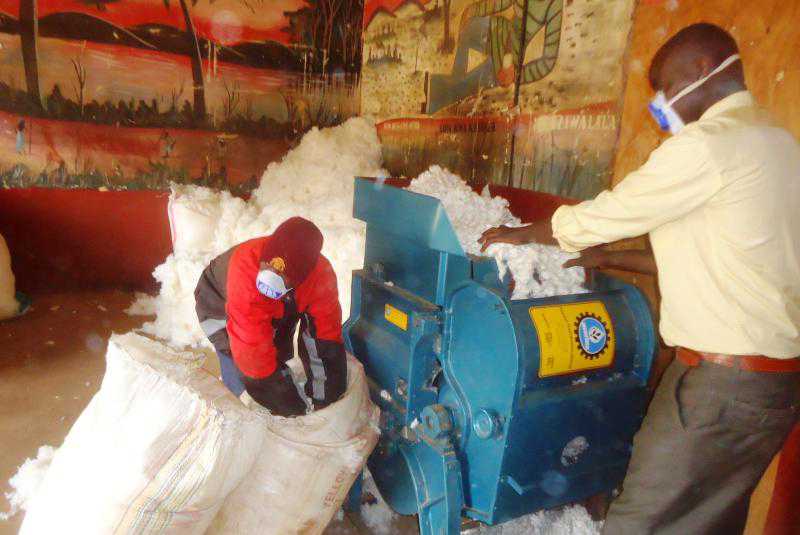 Farmers have heaped praise on the county government for reviving cotton growing.
During field assessment of the BT cotton yesterday at the Kenya Agricultural and Livestock Research Organisation (Kalro) Alupe station in Teso South, farmers urged the county to also direct its efforts towards reviving collapsed ginneries.
Mulwanda Cooperative Union Chairman Vincent Egesa said revival of cotton factories that collapsed in various parts of the country would create job opportunities and offer markets for farmers.
"You cannot revive one section and think you are touching on the entire sector. The government is committed to ensuring that cotton farming is embraced but collapsed ginneries are not being revived," said Mr Egesa.
Governor Sospeter Ojaamong said the county government was committed to ensuring high-yielding BT cotton was embraced in the region.
BT cotton
Mr Ojaamong said local farmers had been trained on the new variety and its benefits.
In September, the governor led a Kenyan delegation to India for bench-marking about BT cotton.
Woman Representative Florence Mutua backed local farmers' calls for revival of collapsed cotton factories. "When the ginneries are revived, our people will get employed. Therefore, concerns raised by farmers are valid, and must be looked into by both the national and county governments," said Mrs Mutua
Principal Investigator of the BT cotton at Kalro Charles Waturu said the country was getting only 20,000 bales of cotton as opposed to 140,000 daily.
He said the campaign for the BT cotton had the blessings of President Uhuru Kenyatta and urged the Government to regulate cotton prices for farmers to benefit. "140,000 bales is what the government wants. Currently only 20,000 is being delivered at Rivatex, which is not sufficient," said Warutu.