Increased investment needed to sell Kenya as sports tourism hub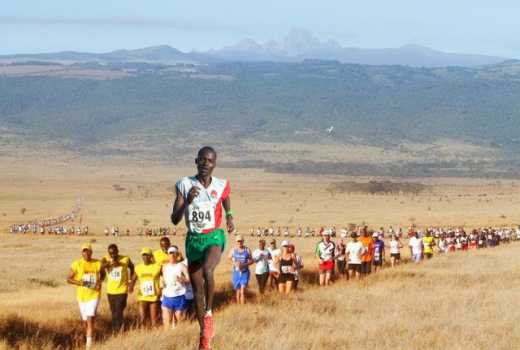 Kenyan marathoners Eliud Kipchoge and Vivian Cheruiyot's victories at this year's Virgin Money London Marathon affirmed Kenya's prowess as a nation of champion athletes. Their wins mark a continuation of the stellar performance of Kenyan runners. In 2017, Kenyan long-distance runners swept five out of six World Marathon Majors, in both men's and women's categories.
Barely a month ago, Kenya Sevens rugby team put up a gallant performance against Fiji, with the Shujaas bagging silver in the final of the World Rugby Sevens in Vancouver, Canada.
Still in March, Kenya hosted the 50th edition of the Kenya Open Golf Championship - a tournament founded in 1967 that has been part of the European Challenge Tour since 1991. Over 120 golfers from Europe, Southern Africa, North and South America travelled to Kenya to compete at the Kenya Open.
Kenya was also well-represented in the event. Indeed, the long history of the Kenya Open Golf Championship not only attests to Kenya's high global profile as a golf destination but is also a clear attestation to the fact that the country is a safe and stable tourism destination.
Hull City FC, an English Championship League football club, has announced that it will send a squad of players to Nairobi next month to play against one of Kenya's top clubs.
Positive publicity
These are but some of the sporting events that have generated positive publicity for Kenya. They offer a unique opportunity to showcase the country as a sporting destination to the global market. In today's globalised world, tourism is the leading industry, while sports is regarded top in the leisure sector.
While sport is often viewed as a separate activity, it is inextricably linked to tourism. It can now be seen as an attraction within the broader tourism industry as it is fast emerging as a key source of tourist supply. Sports tourism can no longer be regarded as a niche sector of tourism.
Sport tourism is itself an investment and has significant positive economic and socio-cultural impacts in the host destination. It creates exposure and enhances a favourable image for the country. It generates an increased rate of tourism growth through high hotel bed occupancy, busy restaurants and retail outlets which all support increased employment.
In addition, it attracts high-yield visitors, especially families and repeat visitors. Sport tourism also provides a vehicle through which visitors can gain better knowledge of the culture of the local communities.
Sports is indeed one of the tourism experiences Kenya is looking to develop to spur visitor numbers towards the annual target of four million by 2030, as outlined in the National Tourism Blueprint 2030. Kenya already possesses attractions for sports tourists.
Iten, a quiet rural town in the Great Rift Valley, is known as the home of athletics. Hundreds of champion long-distance runners have trained in the high altitude conditions that Iten provides and it has become increasingly attractive to foreign tourists.
Impeccable weather
Our country's impeccable weather conditions, which favour long-distance running, have drawn professional athletes such as Great Britain's Paula Radcliffe, multiple World and Olympic champion Mo Farah, USA's top woman marathoner Desire Linden and the national teams of Turkey, Qatar, Bahrain, China and Great Britain, among others, who have all serially pitched camp in Kenya's North Rift region in search of the Kenyan magic.
Active sport lovers can also enjoy activities such as fishing in the Indian Ocean, kite surfing over the Indian Ocean, skydiving, playing golf on both sides of the Equator in Nanyuki, white-water rafting along River Sagana, or running with our elite athletes at the annual Standard Chartered and Safaricom Lewa marathons.
While recognising Kenya's strengths as a sports tourism destination, we must acknowledge that we need to invest more. It is against this backdrop that the Government has committed to double its sponsorship of the Kenya Open Golf Championship to 2.2 million Euro (equivalent to Sh270 million) which will elevate the tournament to the main European Tour in 2019. More investments are expected in rugby, athletics and other sports that put Kenya on the international map.
On its part, the Kenya Tourism Board (KTB), the country's national tourism marketing agency, will continue to work closely with the sports industry stakeholders and the private sector tourism stakeholders to market the country as a sports tourism destination. KTB is keen to look to alternative ways of growing tourist visitor numbers.
- The writer is the Chairman of Kenya Tourism Board.