MPs breathe Sh2.4b life into Konza City dream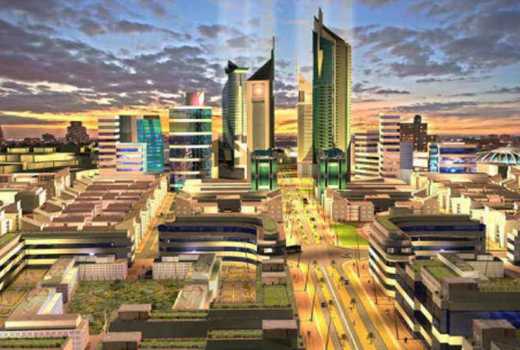 The Treasury has increased funds allocated to Konza City Development Authority to breathe new life into stalled development projects.
This comes following last week's review of the 2018/2019 budget by Parliament's Budget and Appropriation Committee where lawmakers increased fund allocation to various State departments in the ICT sector.
Top on the list was the Konza City that received Sh2.4 billion, part of which had been stripped from its allocation during last year's supplementary budget.
"The committee recommended Sh1.6 billion be allocated to Konza Technopolis Development Authority," said Parliament's Budget committee in its report. Out of this, Sh875 million would go to the development of the Konza complex headquarters, Sh525 million to consultants and Sh259 million to access roads.
Parliament said its decision to increase the allocation to the multi-billion project was in part due to the importance attached to Konza as a vision 2030 project. "Sh771 million be returned to the Konza Technopolis Development Authority that had been deducted during Supplementary Budget in 2017/2018 financial year," said MPs.
In addition to this, Parliament recommended that Sh140 million be allocated to the parastatal's recurrent budget to help "create awareness to the public and other countries."
The allocations have raised speculation over whether the stalled multi-billion dollar development project will finally get off the ground five years after being launched.
Former President Kibaki launched Konza City in January 2013 but over the years, the development has stalled with investors that had reportedly lined up in the initial stages going silent on their stake in the Vision 2030 project.
The initial plan was to have Konza exist as a hub where technology policy makers, developers and academics converge in a setting equipped with the latest in digital infrastructure such as fibre connectivity and location sensors.
In the initial phase, the Government was optimistic that the idea would attract local and international investment and create an ecosystem similar to established hubs in Silicon Valley, Dubai and Tel Aviv.
Moreover, policy makers in Government hoped that the success from M-Pesa and Ushahidi that had put Kenya on the map as an emerging Silicon Savannah would guarantee support.
"We have an active ecosystem of developers coming up with innovative solutions in Nairobi at the moment and the government and universities need to help these start-ups to grow and become big companies," explained Dr Bitange Ndemo, former Permanent Secretary Ministry of ICT.
"The best example is in Silicon Valley where universities and start-ups saw the creation of firms such as Yahoo, Google, Facebook and Cisco."
Some of the international companies that reportedly registered interest in Konza include Google, Toyota, Huawei, BlackBerry's Research In Motion and India's Shapoorji Pallonji Group among others.
In 2014, the Government and US-based firm Tetra Tech Inc. signed a Sh2.5 billion deal to have the firm oversee the development of phase one of the project. The four-year contract was supposed to see Tetra Tech lead nine other architectural, engineering and logistics firms to create the first physical structures.
Subsidised leaseholds
This entailed the design and construction of residential and commercial buildings for 30,000 residents, 7,500 knowledge workers and 16,700 other workers who would form the first locus of the 5,000-acre city.
To fast track investment, the Government even offered investors the incentive of subsidised leaseholds to take up any of the 21 parcels of land on 60 acres ready for investment.
Today, however, not much development work is visible on the dusty expansive land except for a half-constructed building launched two years ago and expected to serve as the administrative headquarters of Konza Development Authority.
Konza City Technopolis had promised to create 200,000 jobs directly upon completion and numerous others indirectly.