Mauritian lender SBM drops bid to buy Chase Bank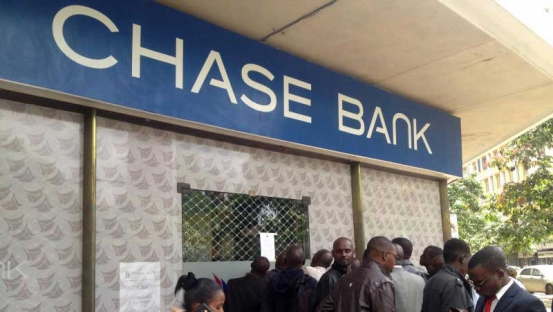 The quality of Chase Bank's books is now a crucial make or break factor as the Central Bank of Kenya tries to play matchmaker between a buyer and the lender's shareholders.
Weekend Business has learned that some of the bidders have opted to withdraw their bids, while some investors are holding back over the Small and Medium Enterprise bank.
SBM Holdings of Mauritius, which recently concluded the acquisition of Fidelity Commercial Bank, has withdrawn its bid for Chase Bank. "We looked at it and did not see the immediate value," Moses Harding, advisor to the Board of Directors SBM Holdings, said.
SBM Holdings is among other investors such as Societe Generale of France, KCB Group, I&M Bank, Stanbic Bank and South Africa's First Rand that recently made a bid to buy Chase Bank and its subsidiary, Rafiki Microfinance Bank.
The Port Louis headquartered bank has, however, said it had evaluated its position in Kenya and decided to withdraw the bid, opting to instead focus on growing Fidelity, which it has rebranded to SBM Kenya.
Mr Harding said while SBM was looking to grow both organically and through acquisitions in Kenya, it would in the initial period focus on building systems in the Kenyan operation.
"We had bid for the bank but we have withdrawn the bid seeing that it might be too heavy at the moment given that we are only two months old. It is too quick and we might not be able to absorb," said Harding in an interview with Weekend Business.
"I have a two-month-old baby, I cannot have too much weight on my hands and I need to first find stability."
It was also reported in May that First Rand and Stanbic Bank failed to attend meetings with Chase and Rafiki executives to scrutinise books and ask further questions. CBK wanted to get concrete proposals by June 9.
Bank's loan book
"The process and timing beyond June 26, 2017 will be informed by the structure proposed in the preferred Investor Proposal. It is currently intended that any resultant transaction will be completed before September 30, 2017," CBK said in a response to Weekend Business inquiries. Sources within the industry say that the bank's loan book will be key to unlocking a deal.
"The non-performing loan will be very important because it will have premium attached to it. If there are problems, it is probably a pricing problem with CBK and shareholders against what the potential investor is willing to pay," said a source who indicated that one other bank had withdrawn its bid.
The last known gross NPLs stood at Sh5 billion in September 2015, and six months later the bank was put under receivership with claims that loans of up to Sh7.9 billion were advanced without security mainly to directors.
SBM's own deal to buy Fidelity Bank offers a glimpse of deals with troubled lenders after it only offered Sh100 as consideration, promising to inject Sh2 billion of fresh capital into the business.
SBM had initially hoped that the acquisition of another bank would give it a strong presence in Kenya.
In May, SBM said it had bid for Chase Bank, in the hope that it would gain a footing in Kenya and the region. Then, SBM said while it was happy with the deal, Fidelity Bank was too small and Chase was particularly 'interesting' for its African strategy.
Chase Bank was in April 2016 placed under receivership after it was accused of misreporting its loans. It later suffered a bank run following reports that it was collapsing.