Here are the five listed stocks that defied NSE bear run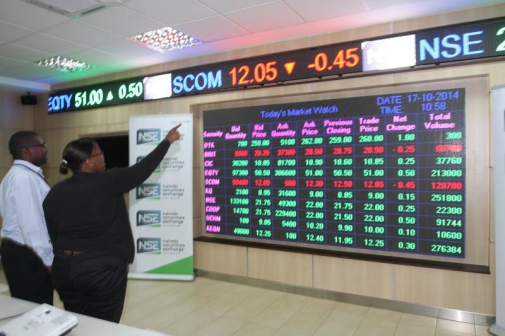 Five stocks have defied the bear run on Nairobi Securities Exchange (NSE) to remain in green zone as majority of stocks bled their share values.
With just four trading days left to wrap up activities on Nairobi bourse, a whopping 59 stocks have seen their share value eroded as the market sustained another bearish run in 2016.
Only KenolKobil, Kenya Airways, Safaricom, Longhorn Publishers and British American Tobacco have posted a gain in price compared to the positions in January.
Oil marketer KenolKobil has so far seen a 46 per cent gain in share price since January to become the highest gainer on NSE in 2016. It currently averages Sh14 from January's Sh9.50.
According to Stella Wambugu, a research analyst at Standard Investment Bank (SIB), the rally is due to attractiveness of the share to the foreign investors as well as the low oil prices.
"The performance of the sector has been good given that oil prices have been fairly low. The oil marketers have enjoyed good sales this year with petroleum sales in Kenya going up by 20 per cent," said Wambugu.
In August, the David Ohana-headed firm announced a 30 per cent jump in half-year net profits to Sh1.18 billion. He also set a target of Sh3 billion in full year.
SIB analyst believes the company is in a better position now to save costs and post better margins given its lower debt moving forward. Despite the deal by oil producing companies to cut oil output, Wambugu tips the share to remain attractive in 2017.
"As long as oil prices don't go to $80 (Sh8,158) per barrel, the market will remain robust and consumption will not be hut. OPEC (Organisation of the Petroleum Exporting Countries) deal won't move oil prices that much," she said.
Another share, Kenya Airways has defied the turbulence in company's performance to gain by 22 per cent to stand at Sh6 per share. The firm posted another record loss of Sh26.23 billion loss in July.
Despite the flight cancellations, pilot strikes and high temperatures in boardroom, the share has survived to become second highest gainer of the year.
Wambugu pegs this rally on speculative retail buyers who love price movements. Maurice Oduor, an investment manager at Cytonn Investment says that the entry of former Safaricom CEO Michael Joseph as board chairman of the airline had excited buyers.
"KQ is an issue of strategy and governance jumbled together. It is too early to put in money because we have never seen Michael Joseph in aviation sector. He is only riding on telecommunication legacy," said Oduor.
Voice and data company, Safaricom followed the gainers club with 15 per cent gain so far. From a 38 per cent growth in net profit for the full year ended March, the firm posted a 32 per cent growth in earnings to Sh23.9 billion for the 2016 half year.
This, added to the issuance of a special dividend to investors strengthened the share. It has remained the top mover for many trading sections this year. It currently averages Sh18.75. Also in green is Longhorn Publishers (eight per cent gain) and British American Tobacco (BAT) with seven per cent gain.
The two are trading at an average of Sh4.85 and Sh840.
Loghnorn share has been supported by the successful rights issue that raised Sh533 million it invested in various activities, notably digital books. This was on a back of a 70 per cent jump in half year earnings.
Cigarette maker BAT recorded a 17 per cent hike in full year profit after tax to Sh4.9 billion followed by a July announcement that half year profit had grown by another 10.7 per cent.