Kenyan Farmers eye Sh33b in hay production plan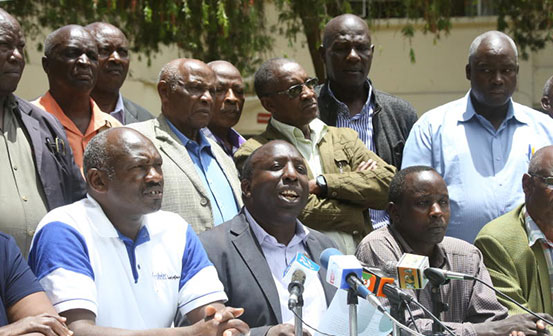 NAKURU: Investors in dairy farming could reap up to Sh33 billion annually in a newly launched value addition platform. The project dubbed Hay Production Platform, launched in Nakuru on Monday, could also see the cost of milk production drop within the next four years.
The project is also aimed at improving farmers' earnings. Farmers, financial service providers, farm machinery providers, seed providers are among investors set to share the billions. The platform, initiated by Rift Valley Hay Growers Association in partnership with various institutions led by New Kenya Co-operative Creameries (New KCC), TechnoServe, Kenya Seed Company, Sochon Limited and various commercial banks.
"This model involves collaborative investment by the institutions to increase growing of quality hay for dairy cows at a minimised cost of production," said New KCC head of raw milk and extension services Dominic Menjo. He said the project targets 60,000 hay farmers in the country.
Currently, a single bale of hay costs Sh250. The cost will be reduced to Sh90 through the platform.
New KCC Board Chairman Matu Wamae, who graced the event, not only urged Agriculture ministry to make the hay production a cash crop, but to ensure dairy farming is a gainful agribusiness venture.
He said farmers in Rift Valley region are losing up to Sh135 million per month because of reduced milk production during dry season as a result of lack of forage for their dairy livestock. "It is a big loss because we do not grow grass to feed our dairy animals during seasons like these," said Mr Wamae. On commercialising hay production, he said arable parts of vast idle lands in Samburu, Narok and Kajiado should be turned into hay growing zones for export. Hay will then be sold at reduced prices to dairy farmers as fodder in turn improving quantity of milk which will ensure high sales for farmers.
Directors from partnering institutions took hundreds of farmers through technical training on how to grow grass for hay making at the Rift Valley Institute of Technology Farm. Technoserve Country Director John Logan said this will be achieved through economies of scale, which he said will improve farmers' livelihoods.
Farm machinery dealers offered to sell first five hay and dairy production machines at reduced prices discounted at up to 40 per cent for farmers. Announcing the discount, Kentrac representative Julius Nyaguoka said Sh1.2 million hay harvester will cost Sh750,000.