Kenyan oil marketers rake in billions from railway project supplies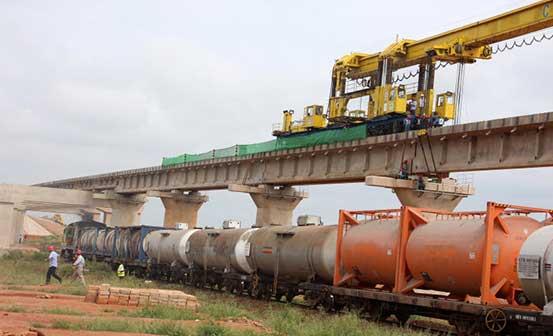 NAIROBI: As construction of the Standard Gauge Railway enters the home stretch, Kenyan firms are reaping huge as suppliers.
According to the contract signed between the Government and the contractor of the project, China Road and Bridge Corporation (CRBC), the venture should source for at least 40 per cent of its raw materials from Kenyan firms.
Among the beneficiaries are local oil firms contracted by CRBC to supply the project's fuel needs. They include Vivo Energy which has delivered 97.4 cubic meters to the project, valued at Sh3.3 billion.
Another firm is Gulf Energy that has supplied 15 million litres of diesel estimated at Sh1.16 billion. "This project has been important, in that we have a stable customer who lifts high volumes of automotive diesel oil such that even if the margins are low we make a reasonable return on account of turnover," says Martin Kiarie, the Commercial Manager at Gulf Energy.
Vivo Energy Managing Director Polycarp Igathe said the oil supply contracts with CRBC was an active example of how big ticket infrastructure projects can expand opportunity in the oil industry. "We have sold extra volumes of fuel and lubricants to SGR. We are glad to do our part in actualising a critical infrastructure project for Kenya and the region," he said.
Construction equipment used on the SGR operate in very extreme conditions with heat, cold, dust, difficult terrain and Mr Igathe says their involvement has strengthened his firm's capacity to handle big projects.
The local oil firms that have benefited from these supply contracts could not have asked for a better fillip at a time when local consumers are hankering for lower prices on the back of record global lows.
Crude prices hit a historic low at $29 (Sh2,950) a barrel for US benchmark crude West Texas Intermediate, while the European Brent crude traded at a low of $30 (Sh3,052) a barrel.
In its latest communication, the Energy Regulatory Commission (ERC) reduced the prices super petrol by less than Sh2, against high expectations that there would be a major price cut.
Proposals by the Energy CS Charles Keter to have ERC reduce the oil marketers' profit margins as a way of further cutting fuel prices could spell constricted revenues and tough times ahead.
Kenya is building its leg of the SGR from Mombasa to Malaba through Naivasha and Kisumu. The route is expected to continue onwards to Kampala, Uganda and eventually, Kigali in Rwanda, in what is the biggest infrastructure project ever undertaken in the region.
To carry out project works, the CRBC has engaged over 600 Kenyan firms, as part of its 'local content' obligation. Phase one of the project from Mombasa to Nairobi (472 kilometers) is 65 per cent complete, according to the Government, which hopes to complete it next year at a contract sum of Sh380 billion.