Haji: Why election offences get priority over graft cases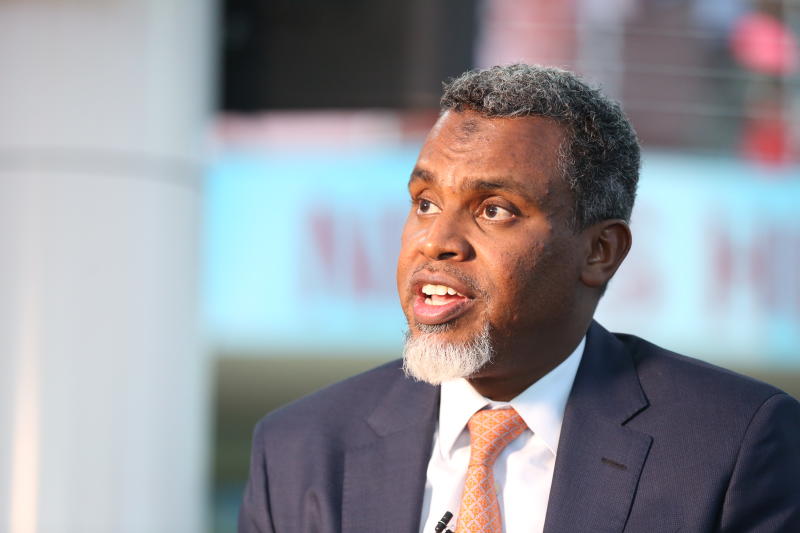 Director of Public Prosecutions (DPP) Noordin Haji has come out to defend the notion that politicians are receiving preferential treatment in dispensation of justice.
Mr Haji argued that his office has prioritised election-related misconduct over graft cases as the country draws closer to the elections. Following an interview with a local newspaper where Mr Haji stated that the Office of Director of Public Prosecutions was going to shift focus from prosecution of graft-related cases till after the elections, Kenyans reacted calling it an act of impunity designed to protect the political class.
In an interview with The Standard, the DPP explained that his remarks were misinterpreted and that the decision is based on international standard of focusing on election-related offences before polls.
"We are not saying we are not going to prosecute. What we are saying is that part of the management and priorities, graft might not be part of the priorities we have at the moment. The priorities we have at the moment is election violence, organised crime and terrorism," he stated.
Such offences include hate speech, voter bribery and any conduct that might cause a breach of peace.
This came following misleading reports that a court postponed the hearing of Malindi MP Aisha Jumwa's case to give her time to carry out her political campaign. Jumwa is facing a murder charge and a Sh19 million graft case.
"We tried to establish as far as we are concerned that this was not the case. What happened is I think the judge looked at the diary and gave the appropriate dates that were in August," said Haji
The case was pushed to August after Jumwa's counsel applied for the matter to start afresh following the transfer of the trial Magistrate Edna Nyaloti to Nakuru Law Courts. The case is now being handled by Mombasa Chief Magistrate Martha Mutuku who gave the green light for the trial to begin afresh on August 15.
Haji called on legislators to put in place better laws that will reinforce Chapter Six of the Constitution that calls for integrity in leadership citing that even though his office is able to charge particular politicians, they can't prevent them from going back to office.
"Unless we have very clear legislation barring or stipulation that once a decision to be charged has been made you can't run for office, we will still be faced with this problem," he said.
Haji further stated that the ODPP's efforts in charging politicians involved in graft cases have not stopped Kenyans from voting them in. He asked Kenyans whether they will still consider voting for a politician who is being investigated or has already been charged.
"Whether we prosecute or not at this time, the politician will still run for office unless I get a conviction. Most of these people still come back to office despite the many allegations we have against them," said the DPP.
A fortnight ago, the ODPP appointed 200 specialised prosecutors and established the Hate Speech and Electoral Justice division at the Office to bolster efforts to address electoral misconduct ahead of the polls. The prosecutors will be deployed in 129 court stations in the 47 counties to hasten prosecution of electoral offences.
The DPP has also backed the ongoing SIM card registration whose deadline is tomorrow, terming it a boost to Kenya's war on terror. Haji says criminals using mobile money to fund activities including drug and human trafficking.
Terrorists are exploiting loopholes in Kenya's telecoms sector to fund their activities through mobile money applications, Haji said. Giving an example of the deadly DusitD2 Hotel terror attack that claimed 21 lives in January 2019, the DPP said that the terrorists relied on M-Pesa and one of the masterminds had over 30 SIM cards.
"If we were to look at the DusitD2 Hotel attack, the terrorists relied on M-Pesa and the loopholes that were there. I think after interrogating this, Safaricom and the Communications Authority have therefore found it prudent that they should know who holds what," Mr Haji said during an interview at The Standard Group offices yesterday.
He said the data registration details being collected should be heavily safeguarded from misuse. As the United Nations Office on Drugs and Crimes (UNODC) notes, terrorist outfits require money to sustain them and carry out terror attacks. The money, says UNODC, can originate from legitimate sources such as business profits and charitable organisations but also from illegal activities such as kidnapping and ransom and trafficking in weapons, drugs or people.
Mr Haji said terrorists were exploiting "Kenya's liberal economy" and regional hub status where it is easy to move money not only through M-Pesa but also through banks and the Hawala system.
"This is where we then come up with laws and regulations to ensure we are able to strike a balance of offering the security that enables a country to thrive and also ensure that it's not exploited."