Waiguru in list of governors awaiting prosecution over graft cases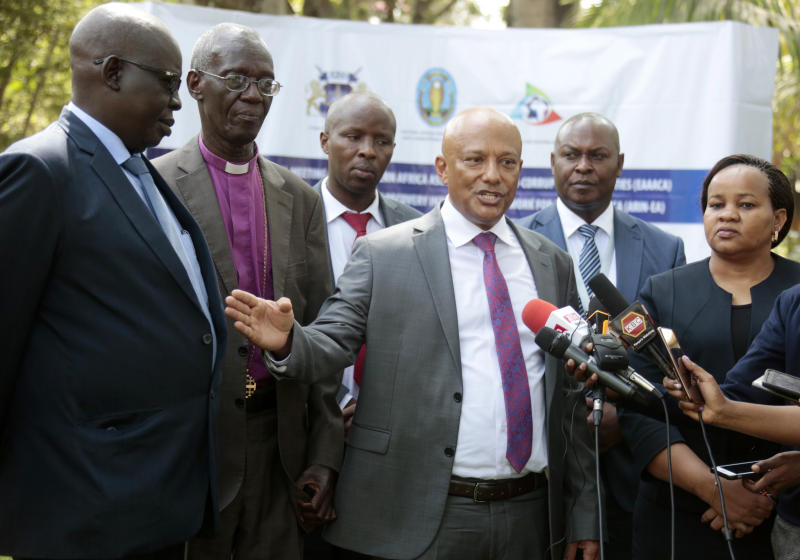 Kirinyaga Governor Anne Waiguru and Fahim Twaha of Lamu have been recommended for prosecution over graft.
Ethics and Anti-Corruption Commission (EACC) Executive Officer Twalib Mbarak said the agency has forwarded Waiguru's file to the Director of Public Prosecution (DPP) Noordin Haji to approve charges against her.
"We had forwarded the file of Lamu governor for prosecution and now we have recommended Kirinyaga governor to be charged. Her case started long ago and there are other governors under investigation," said Mbarak.
He said the two are among three governors whose graft cases have been recommended for prosecution. Mbarak did not name the third governor.
He said there are county Chief Accounting Officers, Head of State parastatals placed under investigations over corruption-related cases.
He spoke today during the Eastern Africa Association of Anti-Corruption Authorities (EAAACA) Annual General Meeting which was hosted in Kenya.
Mbarak also responded to claims by political leaders including Deputy President William Ruto accusing the agency of being 'captured by the State and weaponised to harass his political allies.'
"The commission is very neutral and is composed of people from all the ethnic communities. Even if we are being 'used', it is not practical to arrest a certain individual and within a month, we have a case taken to DPP for prosecution," Mbaraka explained.
Mbarak said some of the political leaders implicated in graft cases are hoodwinking the public on allegations that they are being harassed for belonging to particular political alienation.
"There is a governor who said they are being victimised for changing their political backing but that is not true because we have investigated and we have our facts. We are waiting for the Director of Public Prosecution to give directions," said the CEO.
He added they have watertight graft cases against governors who have been charged and those who have been recommended to be charged over misappropriation of public resources.
"These governors we have charged are from both sides of the political divide. When a governor is stealing, they do not talk to the public but when they are arrested they start throwing political tantrums and we will not fall into their traps. When we are ready to charge you in court, bring your lawyers to defend your case," he said.
The agency boss decried that the biggest impediment in fighting graft in the political arena is the challenge of a 'dirty' political culture.
"You will find that the contestants with questionable moral characters are the ones being glorified and whom the public will vote in to run offices in August. We will red flag and publicise all the candidates with integrity issues with the EACC because the ultimate people to vet their leadership suitability will be the voters," Mbarak said.
However, the Independent Electoral and Boundaries Commission (IEBC) vice-chairperson Juliana Cherera said they cannot bar a suspect of a corruption case from vying unless they are convicted in a court of law.
According to Mbarak, inadequate funds, human resources and the compromising of witnesses are major challenges in the fight against graft.
"We have cases that have collapsed due to lack of witnesses who are in some cases bribed to withdraw, others are taking decades in court," he said.
The meeting brought together Kenya, Uganda, Ethiopia, Rwanda, Tanzania, Djibouti, Burundi and South Sudan. It is the umbrella association of anti-corruption agencies in the region, aimed at advancing cooperation in the fight against graft.
The association's president Ngor Kolong Ngor (South Sudan) said trade of stolen assets across the region has posed a major challenge in fighting graft.
He particularly mentioned Kenya and South Sudan as key hot-spots of stolen assets, including real estate properties.
Kenya's Chief Justice Martha Koome reiterated the need to kill the trend of 'corruption apathy' by the public in the graft battle.
"I believe that once people are convinced that a sincere and genuine effort to combat corruption is underway, they will respond and extend their full cooperation and resolving the problem," said Koome.
Koome called on the EAAACA member states to collaborate with the Judiciary by sharing information under the Asset Recovery Inter-Agency Network for Eastern Africa to accelerate effective tracing and recovery of proceeds of crime.