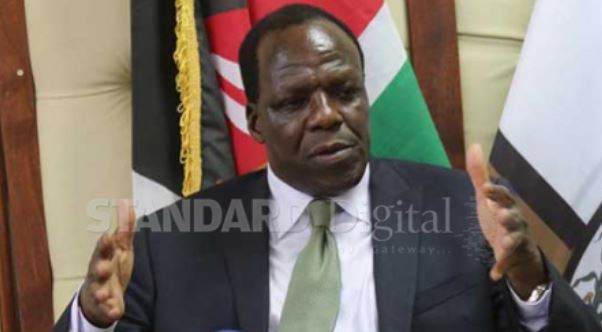 NAIROBI, KENYA: Counties will shut this month if the government fails to disburse money to the 47 devolved units by September 17.
In a statement, Wycliffe Oparanya Chairman, Council of Governors disclosed that the county governments have not received their equitable share of revenue three months into the current financial year 2020/21.
Oparanya says the delay in releasing the funds has had serious implications in the general operations of County Governments and payment of salaries to County staff.
"It is unfortunate that County Governments are unable to even pay the salaries and allowances of our health workers who remain in the frontline to save lives of Kenyans during the current situation. In this regard, if the prevailing situation persists, effective September 17 Counties will have no choice but to shut down," he said.
Read More
"Therefore all County Government services will not be available in the Counties. Consequently, we shall release all county employees to proceed on leave until an amicable solution on the issue is reached," he added.
The County Governments expressed discontent with the Senate's failure to build consensus on the 3rd generation formula which has consequently delayed the approval of the County Allocation of Revenue Act, 2020.
According to Oparanya, the Constitution under Article 217(7) allows for the current 2nd revenue formula to apply until the subsequent formula is approved.
To this end he called upon National Treasury to release the County equitable share of revenue without further delays.
The Constitution under Article 190 provides that, 'Parliament shall by legislation ensure that County Governments have adequate support to enable them to perform their functions'.
"We hereby forewarn the Senate that a Petition for its dissolution can be initiated by any member of the public through the High Court as provided for under Article258 of the Constitution."
The governors also took issue with the Senate Committee on Public Accounts and Investment for summoning governors to appears physically before it a move, governor Oparanya was unrealistic.
Oparanya regretted that the senate was demanding arrest of Murang'a governor Mwangi wa Iria for failing to appear before the committee in person.
"I wrote to the senate speaker Kenneth Lusaka who agreed that governors should appear before the senate committees virtually, however, the committee insists county chiefs must appear physically, we shall not be intimidated by them but governors are willing to attend the committee sessions convened virtually."
"Some of the issues being raised by the senate emanate from previous years stretching to 2015, we will only appear after Covid-19 effects are over and funds have been released to counties."
Oparanya disclosed that governors will meet Tuesday next week in Nairobi to further deliberate on the current crisis.