For Gor Mahia, it was blood, toil, tears and sweat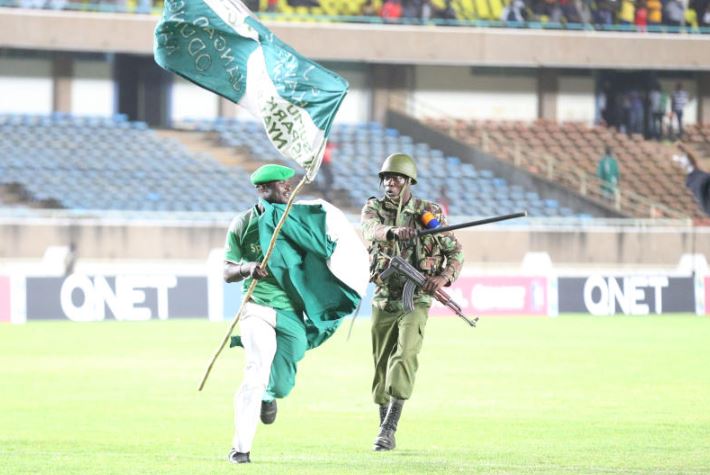 It was a day to remember for K'Ogalo fans and Kenyan soccer lovers as they took on Angola's Petro Atletico in a do or die CAF Confederation Cup duel at Kasarani last Sunday, March 17.
It was a day of blood, toil, tears and sweat for Gor Mahia players and coaching staff. I saw all the shenanigans and clownish behaviour on the terraces as they rooted for their club. These fans looked wild, fearless and ready for war. One of Gor's favourite fans Sudi Jaimbo said he was annoyed with the mistreatment the club undergoes whenever they play in North Africa. It did not matter to him that Gor was playing Petro Atletico which is not in North Africa. When reminded of that fact he retorted: "okadwa ng'eyo magi e joka" (I don't want to know, these are those people).
The young fan with the placard reading 'Tuyisenge please score I want to go home I have homework' made my day. I was not alone, at the end of the game Jacques Tuyisenge, K'Ogalo's marksman-who scored the day's lone goal that took Gor to the quarters — was united with his undying fan.
The young fan found his way to the dressing room and the Rwandese did not disappoint. He not only 'dedicated his goal to the young man, but also gave him the sweaty jersey as a lifetime souvenir. In the process, Tuyisenge broke another record. Kenyans have never seen players exchanging or giving out jerseys on the pitch like it happens in Europe or America. Anyway, that's a story for another day.
Anyway, Gor Mahia, in beating Petro Atletico in the inter-club tourney, finished second in Group D behind eternal rivals Zamalek of Egypt. They will thus proceed to the group of eight — for the first time since 1992.
Gor coach Hassan Oktay was sent off to the stands, Ernest Wendo and Shafiq Batambuze were both red carded. That they accomplished the fete with nine players made the victory even more intoxicating; akin to exploding your chest and dizzying your head with the strongest 'Achwaka' from Alego in Luo Nyanza.
The campaign to ensure Gor Mahia qualified for the quarters started immediately they were whipped 4-0 by their bogey team Zamalek back in Alexandria. Unknown to many, the qualification campaign started chini ya maji. On social media platforms and individual posts fans were encouraged to attend the match and make noise to encourage the boys. Renowned fan Jaro Soja had a WhatsApp message 'Operation Kasarani ijae' which he posted daily to fans on his phone book. True the fans proved they were the 12th player on the pitch.
The match was plagued by uncertainties: For starters, Gor did not have regular players who were either injured or out on red cards. Joash Onyango 'Mr Hard Man' was missing at the back. Dennis Oliech's position was as usual uncertain. Three days before the match players had boycotted a league match against Home Boyz in Machakos. A makeshift side was cobbled together but although they won 1 – 0 there were murmurs that the Sunday game against Petro Atletico would be 'sabotaged' somehow.
But with deputy coach Zedekiah 'Zico' Otieno and a Sh38 million cash prize at stake, the boys proved their worth. As it is always said, winning a match starts before the real game.
K'Ogalo had it seen it all before. Flashback to January 1985 when Gor Mahia had just been banned by CAF after the historic Zamalek debacle in Egypt. Their then coach Len Julians had been red-carded just like Oktay. Leading players like Abdallah Shebe, George 'Solo' Otieno, Isaiah Omondi and Peter 'Basanga' Otieno were also out on similar red cards issued in Egypt but strangely applicable in CECAFA games as well.
Indeed, as the CECAFA tourney drew to a close in Khartoum, Sudan, there were fears the club would end up as whipping boys. But assistant coach Maurice 'Sonyi' Ochieng' took over the reins and with team captain Bobby Ogolla ensured the boys were psyched to play and win. Just like last Sunday, the pep talk in the dressing room was a game changer. Again like in Khartoum in 1985, the match was played under floodlights.
Bobby Ogolla asked all the players who had been named on the First 11 to 'take an oath and swear that they will play to their utmost best without fear or cowardice'. He also told them that the fearful should not pick the Gor jersey from the bundle on the floor. That is how a rookie Gor Mahia team beat AFC Leopards 2 – 0 in the famous CECAFA final match dubbed 'battle of Khartoum' in 1985. The rest is history.
It was the same last Sunday. K'Ogalo had the urge to revenge by all means at home against what Zamalek did to them in Egypt. Unfortunately, it was Petro Atletico who bore the brunt of it with only eight outfield players and a goalkeeper determined to win the Sh38 million bonanza. After all the frustration from away matches, K'Ogalo poured onto the pitch as if they had won a final match.
After all the blood, toil, tears and sweat, K'Ogalo is again set to go back to North Africa and the forthcoming draw does not favour them. With a poor away record they are once again confirmed point donors to Arab teams, what a pity!