Safaricom reboots with tech plan as it eyes fresh growth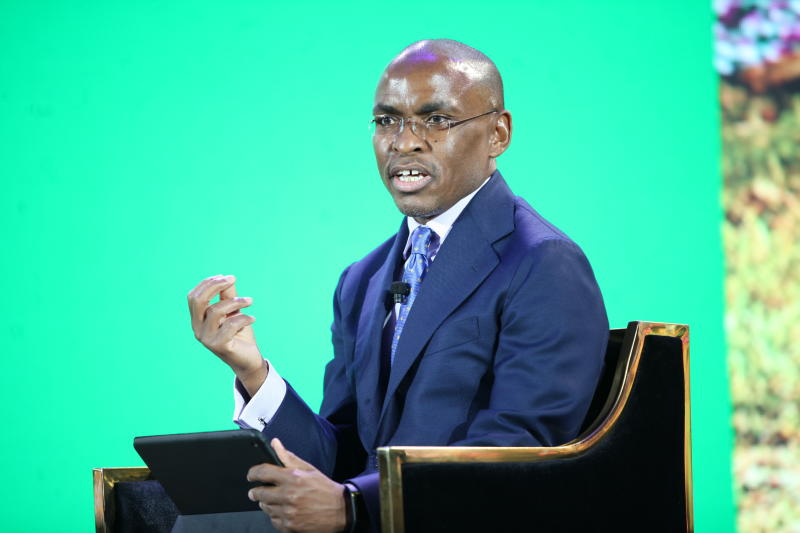 Safaricom's Chief Executive Peter Ndegwa must be a sports enthusiast.
In our 50-minute virtual interview, he used analogies of golf and soccer, specifically the English Premier League, to buttress his point about undertaking some sweeping changes at Safaricom.
As a follower of the Premier League, he knows that the relevance of Arsenal and Manchester United - the fierce rivals that once dominated the popular league - is now only sustained by their fans' constant bickering over the glory days.
But without any major silverware in their respective cabinets, the two teams might soon join Nokia and Kodak in the dustbin of waliovuma (have-beens).
Alas, the fear of watching as Safaricom - the most profitable company in the region - degenerate like the two English clubs must be giving Ndegwa, whose name in his local dialect means bull, sleepless nights.
He knows that teams that stay at the top are those that keep improving during peacetime, not those that wait until there is a fight.
Thus, with slightly over a year at the telco's C-Suite, he has moved swiftly to reorganise the workforce so that it can respond quickly to the fast-changing customer needs.
Making Safaricom more agile as it transitions from telecommunication to a technology company is turning out to be Ndegwa's way of charting his own path, away from those chosen by his predecessors Michael Joseph and the late Bob Collymore.
As a rule of thumb, the larger the firm, the more it can leverage the economies of scale by lowering the average cost per unit through increased production. But it is not always that the bigger the size, the better the returns. Oftentimes, the difficulty of managing a bloated workforce, like Safaricom's 5,500 employees, can also result in what is known as diseconomies of scale.
This means that instead of increased production reducing the average cost per unit, it ends up doing the exact opposite.
According to Ndegwa, an Economics graduate of the University of Nairobi and an alumnus of the famed London School of Business, he does not want Safaricom to become "too big to innovate". The solution, he said, is to make the company more agile.
His predecessors turned Safaricom into a behemoth with over 70 per cent of the total wealth at the Nairobi Securities Exchange (NSE).
But ensuring that Safaricom retains this position at a time when competition is getting fierce from all directions, including social media platforms such as WhatsApp and Facebook as well as banks in the financial space, will not be easy. Yet this might as well be Ndegwa's job description.
Twenty years of being at the top can make anyone complacent. But Ndegwa is not resting on his laurels.
The changes he has announced since taking over in April last year have already raised some anxiety among its employees. And critics, in a way, are wondering: "if it isn't broken, why fix it?"
Ndegwa agrees that the current changes - which he doesn't want to be described as restructuring as they simply involve changing "how" people work - are actually informed by the fact that Safaricom is growing.
"It is not rocket science. It is just a new way of working. There are no new skills required," he said, noting that there will, however, be more emphasis on digital skills.
This means there will be a lot of retooling of people and in marketing.
"We can't stay still. Golf was played differently 10 years ago. There is more distance and more accuracy today," added Ndegwa.
He calls this "the agile way," which involves putting employees in "self-contained" teams.
The first line of the self-contained teams is the squad. Many squads will be funnel into what he called a tribe, which will, in turn, form executive committees. With these units, he believes Safaricom will be more "customer-obsessed."
The move will see a third of Safaricom's workforce put into four tribes of digital care, mobile data, fixed data, and payments.
In a squad, there are different roles, and people will tend to improve their craft with time, according to the Starehe Boys alumnus.
He said the new strategy will be critical for the company's next phase as it prepares to launch into the education, agriculture, and health sectors. The telco is also keen on making forays into new markets such as Ethiopia.
As companies get bigger, Ndegwa said, there is always a tendency to look internally rather than externally.
One of the issues the telco has been grappling with is the pricing of some of its products. Whereas Safaricom products have largely been accessible, they have not necessarily been affordable.
Agile working started with software companies but has since been taken up by other sectors. Companies that have gone agile include Netflix and Amazon.
Ndegwa understands that these changes might not be received well. "Change always brings a level of uncertainty. So the anxiety is expected," he said.