How growing poverty is fanning anger at foreign traders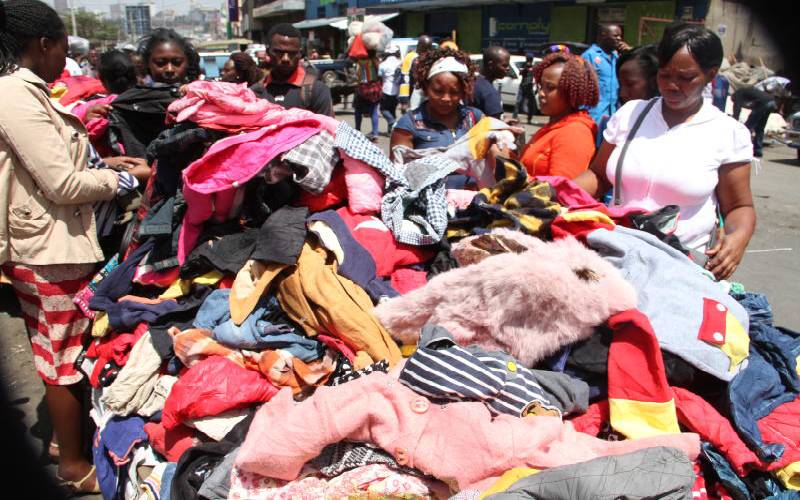 Before Charles Njagua Kanyi became a Member of Parliament for Starehe Constituency, Nairobi County, in 2017, he was a prolific musician famed for his Kigeugeu song.
His stage name was 'Jaguar,' and his metamorphosis into an international artist had just started when he vroomed into politics. He had reveled in his newfound global outlook.
So much that he boasted of it: "Muziki kavuka border, Jaguar kavuka border…" (My) music has crossed borders, Jaguar has crossed borders).
He featured Tanzania's Hip-Hop artist AY in this song. His global brand would shine even brighter after he did another song 'collabo' with South African duo of Mafikizolo.
But he wanted to be a politician. And an enduring lesson for those who have made such a transition - including US President Donald Trump - is that while a business can seamlessly go global, politics is stubbornly local.
So, under the guise of protecting his constituents from unfair competition, Njagua recently threatened to personally lead the ejection of all foreign nationals, including the Chinese, Pakistanis, Tanzanians and Ugandans from his constituency. This comes at a time when anti-Chinese sentiments in the country have reached fever pitch. The State through Interior Cabinet Secretary Dr Fred Matiang'i, has implicitly fanned this Sino-hatred.
Dr Matiang'i, riding rough-shod on President Uhuru Kenyatta's nationalistic policies, has aggressively been hunting for all foreign nationals not properly documented. The CS has particularly been piqued by cases of foreigners doing jobs that he believes could easily be undertaken by locals.
So when reports and photos emerged that some Chinese nationals were scrambling with Kenyan peddlers for second-hand customers at Gikomba Market, East Africa's largest open-air market domiciled in Njagua's backyard, an enraged Matiang'i acted swiftly.
He ordered the immediate deportation of the six Chinese. So strong is the protectionist fervour that even the Head of State, a symbol of national unity and embodiment of diplomacy, joined the Chinese lynch mob, after public outcry on how imported fish from the Asian country was emasculating the local industry.
"Jameni, tunatoa samaki kutoka China… hata kama Finance Bill imepita, think out of the box, tunaweza kusema hiyo samaki ambayo imefika ni mbaya na unaifungia. Kuna njia nyingi serekali inaweza kufanya kazi. Ndio tuhakikishe watu wetu wamefaidika jameni," said the President in October last year.
State House would later say that the President was misquoted. But an excited Njagua, with little background in diplomacy, is going for the jugular.
"We are not talking about six Chinese nationals. We're talking of hundreds of foreigners who work here. I give the Government 24 hours to evict these foreigners or as the MP of this area, I will mobilise people and go into their shops, beat them up and send them all the way to the airport," he said in a video that went viral on social media.
The Government has since distanced itself from the remarks and even arrested the MP for fanning xenophobic feelings. But a section of the political class and the public have rallied behind him, insisting that the MP was simply carrying out his mandate of 'protecting' his constituents.
Majority Leader in the National Assembly Aden Duale could not be blunter. In a fiery speech in the National, he seemed to justify Njagua's remarks as tit for Tanzania's tat. He said the Dar es Salaam regime has been frustrating free trade and movement of people within the East African Community.
Kenyans, in particular, he suggested, had been victims of Dar es Salaam's aloofness. Others, such as Gatundu South MP Moses Kuria, helplessly wetted their eyes for Njagua after they were tear-gassed protesting the arrest of the first-time legislator. A teary Kuria said he smelt a "revolution."
Populist edicts
Globalisation - free movement of capital and people across borders - has squeezed some xenophobic feelings from economically desperate Kenyans.
Around the world, globalisation has resulted in the rise of nationalism and far-right politics with the zenith being the election of President Donald Trump in the US and the decision by British voters to exit the European Union.
What Njagua wants to carry out in Kenya, is perennially being done in South Africa. As cheap labour from other African countries such as Zimbabwe and Nigeria has poured in, unemployed youth in the country have reacted angrily, violently targeting the foreigners in cities such as Johannesburg.
Suddenly, globally, people want to keep to themselves. And Kenyans, it seems, do not want to be left out.
As tough economic conditions continue to push consumers to the edge, Kenyan politicians deprived of ideas on how to placate jilted voters have resorted to quick-fix populist edicts of them-versus-us. "Helplessness and politics drive xenophobia," says XN Iraki, a lecturer at the University of Nairobi.
"All the big stories about corruption have made the average Kenyan feel helpless economically. Traditionally, anytime we have problems, we look for scapegoats. Our neighbours have become the easiest after Chinese," explains Iraki. "It is not true (that Tanzanians and Ugandans are dominating Kenyans). The traders in Gikomba have co-existed for ages," says, Scholastica Odhiambo, an Economics lecturer from Maseno University.
The Chagga, an enterprising community from Tanzania, is perhaps the most conspicuous foreigners in Gikomba Market. Yet they are as old as the market itself. They deal mostly in second-hand clothes and are known for their aggressive marketing strategies.
The way they have won the hearts of customers is not any different from the way their Tanzanian compatriots - artist Diamond Platnumz and a host of other Bongo musicians - have taken over the Kenyan air-waves through songs. But, unlike the Chinese, there is no evidence that the Chagga have undercut their local competitors by pricing their wares relatively lower.
It is not really that the Ugandans and Tanzanians are taking away from Kenyans, it is the country that is not baking enough national cake for everyone in the party, and when it has baked a bigger cake it has failed in distributing it evenly.
As America's former President Bill Clinton famously put it: It is the economy, stupid. Well, the Government that has been managing the economy is also to blame. While Gross Domestic Product (GDP), the sum of all goods and services produced in an economy, has expanded by an impressive average of 5.64 per cent over the last five years to 2018, the gap between the rich and the poor has continued to widen.
The have-nots, such as the small traders in Nyamakima, Gikomba, Kamukunji and Wakulima Market in Jaguar's constituency have missed out on even the crumbs that are supposed to drop from the gigantic cake the country has been baking.
The business environment currently, says Maseno University don, has been hostile to small traders. Small traders are being strangled by high taxes and reduced supply of money.
"Most resources have targeted the real estate and infrastructure sector, leaving out the seamless exchange of goods and services," says Odhiambo, noting that late payment of goods and services offered to national and county government has also aggravated things.
The capping of interest rate which, according to a recent report by the International Monetary Fund has stemmed the flow of credit to the Micro, Small and Medium-sized Enterprises (MSMEs) making it hard for them to expand. Trade sector, which official figures show six out of 10 small businesses in the country operate in, suffered a three per cent drop in credit uptake.
In a Working Paper, the global lender found that following the implementation of interest rate controls, lending to large corporates, households, and the public sector increased, but credit to small businesses declined.
This was largely because small banks, whose share of loans to small businesses before the cap was 40 per cent compared to the large banks' 13 per cent - avoided the higher-risk SMEs to whom they had extended credit "at rates above the ceiling on the lending rate," according to an analysis by the IMF.
"(And) there is no evidence that the high-risk borrowers that have been cut off by the banks were able to find alternative sources of finance" during the period under review, noted the report.
State policies have also been inadvertently unfavourable to small businesses. In its bid to combat tax evasion and reduce the flow of sub-standard or fake products into the country, President Uhuru Kenyatta's Government has instituted policies that have crippled most small businesses.
Through the multi-agency team, Government officials have been accused of holding on to shipments belonging to small traders for far too long as they painstakingly comb through each and every consignment bundled together in a shipment. While the aggregated shipments for small traders have taken ages to be scrutinised, those for big traders including foreigners with deep pockets to hire an entire ship, have been cleared as fast as they have come.
Import taxes on some finished manufactured products that small traders deal in including those made of steel, plastic, wood, and paper have been slapped with punitive taxes as the Government moves to actualise President Kenyatta's dream of creating jobs by enhancing manufacturing. Prices of imported cutlery, sufuria, plastic cups, washing basins, jugs, plastic chairs that are being sold at Kamukunji Market, have skyrocketed.
Policies such as banning plastic bags, though noble, have had devastating effects on job creation. John, not his real name, a ride-hailing taxi driver, knows just too well. "I hear people say that the Government is creating a lot of jobs, I don't think so. The jobs they have destroyed are more than the jobs they have created," says John.
In 2015, he used to make "a lot of money," he says as we drive along Outering Road, Nairobi, towards Standard Group offices along Mombasa Road. His car is a little rickety for the ride-hailing taxi.
It is the vehicle he used to transport plastics before the Government criminalised the business in 2017. "In a week, I would make between Sh50,000 and Sh80,000." Lakini siku hizi, hata kuona mia tano ikiwa pamoja ni ngumu (But today, seeing a whole Sh500 is difficult)."
The Kenya Association of Manufacturers (KAM), a lobby for industrialists, said over 60,000 jobs might have been lost as a result of the plastic ban.
The Government, through the then Environment CS Judy Wakhungu, said KAM's figure on job losses were "exaggerated." John can only say: "I know of so many people that have lost jobs."
Then his car runs out of fuel, and we are forced to push it to the nearest filling station. He uses the Sh500 I have paid him to refill. "See the problem? I have just been working for 'petrol'," he says solemnly.
As the average Kenyan has seen his economic fortunes dwindle, notes Iraki, it has become easy to blame others. "Politicians also see votes in stirring emotions among the voters, especially unemployed or struggling voters," adds Iraki.
Kenya once admired as an oasis of tranquillity in a region of poverty and instability, now wants to slam its doors on the faces of its desperate neighbours.
Politicians from Kenya and Tanzania have hardened their positions following Njagua's remarks, threatening a return to the trade and diplomatic fiasco of 2017.
Some Tanzanian legislators vowed to retaliate should anything happen to their citizens in Kenya. Duale painted a picture of how there has been a free-flow of fruits, vegetables and other goods from Tanzania into Kenya even though data shows that Kenya exports more than it imports from the four EAC member States).
As Uganda, Tanzania and Rwanda's economies have matured they have imported less from Kenya but export more to Nairobi. Between 2011 and 2018, the trade surplus- more exports than imports- that Kenya enjoyed against the three East African nations has been slashed by 61 per cent from a net export of ShSh104.8 billion to Sh41 billion.
The gain has been tremendous for Uganda. In 2011, Kampala exports to Kenya- mostly agricultural produce - were valued at Sh10.3 billion. Seven years later, exports had increased by nearly five-fold to Sh49.4 billion. Some of the items Kenya imports from Uganda include eggs.
When we visited Wangige at the height of the glut, most traders blamed Ugandan eggs for the depressed prices. A woman who introduced herself as Mama Quail thought this would be the solution: "Let them (Ugandans) eat their eggs, as we eat ours." The two EAC member States have ratified the Common Market Protocol under EAC which allows for free trade.
But Duale had a different beef with Tanzania, who he thought had been mean to Kenyans. They had burnt Kenyan chicks and refused to grant a Safaricom's Sylvia Mulinge permission to enter and work in the country. Mzee Solomon, a tour van driver, concurs with Duale, insisting that Tanzanians "are bad people."
"I had just gone to collect a car in Arusha, only to be confronted by the police asking for a work permit," remembers Solomon who has been doing this job for 30 years. "If we (Kenyans) cross over to Tanzania, we are asked for a work permit, but their people (tour operators) get into Kenya without being harassed," he says of the movement by tour drivers from Tanzania's wildlife ecosystem, Serengeti, and Kenya's Maasai Mara.
While Kenya and Rwanda have abolished work permit fees for East African nationals, Tanzania still maintains a work permit fees of Sh30,000 to every foreigner. Then there is a new requirement for yellow fever that has complicated things further. Interestingly, says Solomon, those crossing the border on foot are never asked for a yellow fever certificate.
A regional integration index developed in 2016 by the African Development Bank, the African Union Commission and the Economic Commission for Africa showed that while EAC was the most integrated regional bloc in Africa, Tanzania was the laggard, earning dismal points in three of the five integration dimensions - regional infrastructure, free movement of people, financial and macroeconomic integration.
But even at the apex of the 'cold war' between Kenya and Tanzania, a video of four Harambee Stars players dancing Diamond's hit-song is reminder of how East Africans are intricately connected.