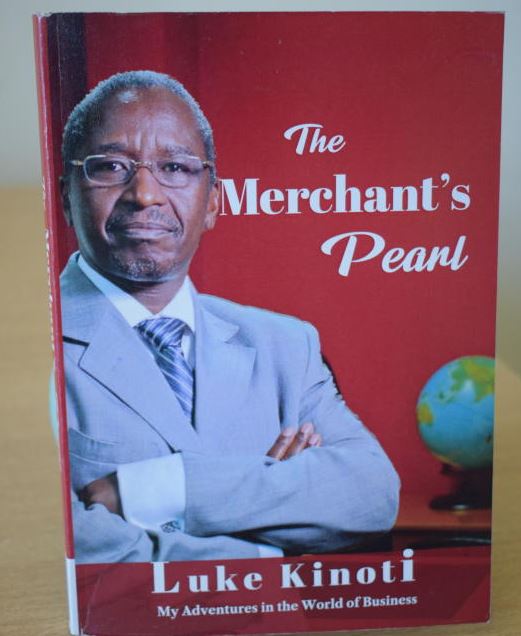 If you are an aspiring business person worth your salt and want an insider's view, 'The Merchant's Pearl-My Adventures in the World of Business' is a must read
The book authored by Luke Kinoti, a Kenyan renowned entrepreneur, investor and corporate honcho, is a revealing masterpiece on how to start and make a business thrive.
The Nairobi Securities Exchange (NSE) Chief Executive Geoffrey Odundo wrote the foreword.
Mr Odundo wrote: "The books explores the spirit of adventure and pioneerism in unchartered storms in the business world. The passion that drives an entrepreneur to achieve a dream is outlined by the writer. Fusion Capital is a case study of a local entrepreneur who opens up to international markets which have become a global village."
Mr Kinoti co-founded Fusion Capital, a private equity and real estate company credited with some of the most impressive residential blocks in Nairobi and other parts of Africa.
Read More
Kinoti steered Fusion Capital to launch the Development Real Estate Trust (D-Reit) in Kenya.
In the book, Kinoti, who hails from Meru County where he also partnered with others to start the Key Microfinance Bank (formerly Remu Microfinance Bank), started off in the business world as second-hand clothes (mitumba) dealer in Meru town, barber and transporter.
This is before he graduated to become a household name in real estate and micro-financing.
Valuable lessons
In his new book, he says he learnt many valuable lessons along the way, some of which are not and are unlikely to be taught in business schools'.
In the 227-page book, Kinoti, a Bachelor of Business (Mathematics) graduate from the University of Nairobi, highlights the successes that he achieved since starting Fusion Capital in March 2006 and retirement in March 2017. He also shares the adventures and challenges he has had as an entrepreneur and how he worked to overcome them.
And if like him you have been at the apex of your business and are mulling retirement but lost on how to hand the reins to someone else, Mr Kinoti's book is a must read.
He in a convincing manner illustrates the way forward for thriving business, when an entrepreneur is preparing to hand over the business.