How Nairobi's 'YouTube Lady' used Internet to build fashion design firm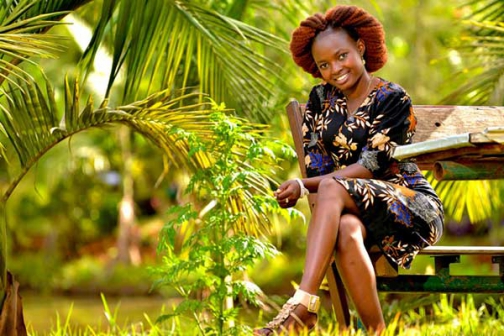 YouTube, the world's largest online video platform with more than a billion monthly users, is fast becoming a resource for Kenyans keen on learning new skills.
By watching tutorials and demos, enterprising youth are picking up tips that are helping them earn a living.
The best-known embodiment of this is Olympic silver medallist Julius Yego. He had an unconventional rise to glory after he learnt the sport by watching YouTube videos, earning the nickname, YouTube Man.
Among the people Mr Yego has inspired is Jackie Njeru, 23. The civil engineering graduate sought out YouTube videos to realise her childhood dream of becoming a fashion designer.
"I have always loved fashion, and my friends admire my style. They encouraged me to start a fashion blog so I could inspire more young women," said Njeru.
In October 2014, her blog, Trendy Tragedienne, went live. She started out posting photos of herself in a variety of trendy outfits bought from local shops.
"A few months into blogging, I realised there was something missing; I wanted to give my audience something different from my counterparts in the style and fashion blogging world," Njeru said.
She started looking for fresh designs, and would take her ideas to a tailor who would custom-make outfits she could showcase online.
Take a quick survey and help us improve our website!
Take a survey
This, however, did not go on for long as her designs were not always executed as precisely as she had visualised.
"I felt that the results weren't worth what I had paid, which was especially difficult to accept since I was using my savings at the time as a third-year student," said Njeru.
"I, therefore, decided to find a way to make the outfits myself."
POCKET MONEY
Early last year, she got onto Google looking for images and videos on sewing. She figured it would not be too difficult to learn how to make her own outfits. After all, while in primary school, she had befriended a tailor in her neighbourhood who had taught her how to sew dresses for her dolls. She hoped relearning the skill would be easy.
Njeru started saving up for a sewing machine from what she could set aside from her pocket money. In the meantime, she familiarised herself with sewing ideas from several online resources.
When she had raised enough money to purchase a sewing machine, she decided her first outfit would be a jumpsuit — a garment that incorporates trousers or shorts and a top in one piece. It was a bold choice, but Njeru was determined to make her mark quickly.
"I was ready to give it all I had. I went online and searched, 'how to sew a jumpsuit'. That is when I discovered how resourceful YouTube can be," she said.
"But even after discovering YouTube, my first outfit was not a success. Still, I did not give up, I just kept learning."
PAY OFF
A couple more outfits did not turn out exactly as envisioned, but Njeru was not about to quit. And her resilience paid off.
In June 2015, she was chatting with a cousin who wanted to buy a unique dress at a fair price. Njeru immediately offered to sew her one.
"I sent her images of African women in the kind of dress she wanted. I told her I could make something equally pretty. That is how I got my first client, even though I had never made a complete outfit," said Njeru.
Two fittings in, the dress was perfect. Her cousin loved it, and this set her off on her journey as a fashion designer.
Njeru works on order, and in a good week, she says, she can sew outfits for five clients.
"Depending on the item being designed and tailored, my business can bring in about Sh20,000 a week, as I sell a dress at between Sh3,500 and Sh4,000," she said.
Njeru has grown her client list largely through referrals, and counts among her customers people living abroad. Most recently for this latter group, she designed dresses for clients in the United Arab Emirates and in the US.
In Kenya, she grows her brand by showcasing her designs on local runways, including university pageants where she dresses contestants.
She describes her designs and style as bold in terms of colour and design.
"I like to stand out from the crowd, to express myself in the most exceptional way possible. However, I ensure that I don't bring out something that is too loud — I want to excite and create interest, not shock and create confusion," said Njeru.
"I aim to create something that identifies who I am, but still looks dazzling when adapted by someone else."