Timothy Boikwa: The Form 2 dropout behind East Africa's biggest gospel hits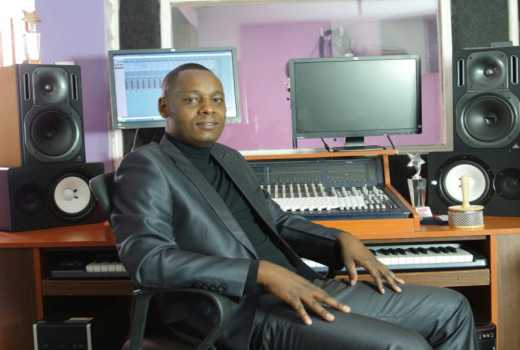 Timothy Boikwa is a music producer with numerous awards under his belt. The 35-year-old is the hitmaker behind Still Alive Records, which has produced music by gospel stars like Bahati, Mercy Masika, Ringtone, Daddy Owen and Christina Shusho.
Still Alive Records has become an established outfit within East Africa, with a reputation for its high-quality audiovisual production, with its repertoire including producing, composing, engineering, mixing and marketing.
But it wasn't an easy journey getting to this point.
"I'm a Form Two dropout from a humble family in Nyamira. My family was poor, which forced me to take up menial jobs like selling bread and washing cars to make ends meet," says Tim.
It was while living with his uncle in Kericho town that he met Pastor Salim Juma, who introduced him to AIC Church. While here, he learnt how to play all sorts of musical instruments and got to participate in church missions.
"I performed in church a lot and was eventually introduced to two German women missionaries who'd become regular visitors at the church. My mission work inspired them sponsor my music education for nine months at Diguna College in Rongai," says Tim.
Once he was done, Tim got into South Africa's Greater Sounds, where he pursued a two-year diploma course in music training before returning to Kenya. Shortly after, he proceeded to Uganda, where he produced upcoming gospel artistes at Cool Sounds for seven months.
Making it work
But he wasn't getting paid well, so when things got tough, he decided to move back to Kenya and settled in Eldoret with his family. Here, he met a businessman, whom he teamed up with to set up Hillson Studios, though he still did freelance work at other studios. Tim then got a job as a bass guitarist with Jamnazi Afrika Band.
"We toured many places, but during my free time, I'd embark on recording contracts during the day where I earned close to Sh5,000 a day, which was little, but I managed to save enough to buy my first piano and mixer."
And then post-election violence happened. This forced Tim to relocate to Tanzania for a few months. When he got back home, he was more determined than ever to live out his production dream. With the music equipment he'd bought, he established Still Alive Records at Nairobi's Uchumi Jogoo Road with the help of a relative.
The business picked up with time, a lot of hard work and aggressive marketing. Then in March 2014, his progress was pushed way back after thieves broke into the studio and made away with equipment worth Sh1.7 million.
"I thank God that over time I've managed to replace everything that I lost, and buy much more. Today, my studio can accommodate 50 musicians at a time, many of whom I'm always ready to assist if they have financial constraints but have the what it takes to make it in the gospel and contemporary music scene," Tim says.
His studio is now based in Nairobi's Karen area, with studio charges ranging from Sh20,000 upwards for audio production, and Sh100,000 upwards for a music video.
Still Alive Records is now a state-of-the-art label with modern equipment, and has expanded into advertising and movie production. It also plans to launch a radio station.