Graduands rise above Covid-19 gloom to receive honours
Thousands of students graduated physically and virtually from various universities across the country yesterday.
In Tharaka Nithi County, Chuka University held its eighth graduation virtually with 3,915 students being conferred various degrees and diplomas.
Speaking during the ceremony, Vice-Chancellor Prof Erastus Njoka said the university had continued to deliver on its mandate despite challenges occasioned by coronavirus.
Njoka said the institution has been part and parcel in fighting the pandemic especially in the neighbouring community where it installed hand-washing equipment at the university and various towns.
"The Physical Science department developed hand-sanitiser, liquid soap and fumigants that are being used at the varsity and others donated to residents," said Prof Njoka.
In its efforts to build research capacity, the VC said the university has acquired a Sh67 million state of art science technology.
Chancellor Dr Julius Rotich commended the university's continued growth noting that it has so far released 15,000 graduates to the job market and the population has grown to 17,000 in its campuses in Chogoria, Igembe, Embu and Tharaka University college.
Final year
Principal Secretary in charge of University Education and Research Ambassador Simon Nabukwesi in a statement said the Ministry of Education had partnered with the United Kingdom and other partners to enhance research and innovation in universities in Kenya.
In Kakamega, the management of Masinde Muliro University of Science and Technology (Mmust) said only 55 per cent of students in their final year were able to graduate after taking their studies online. According to the institution's acting Vice Chancellor Prof Solomon Shibairo, the use of technology enabled them to get a graduating class of 2020.
"When learning institutions were closed due to Covid-19 pandemic, we resorted to online studies and we were able to reach 55 per cent of students who were in their final year.
"The remaining 45 per cent could not graduate since they could not access their studies online due to lack of bundles and internet connectivity issues," said Prof Shibairo.
The VC said they have put in place elaborate plans for a second graduation in early 2021 for the 45 per cent who did not graduate during the institution's 15th graduation.
"We want to assure the public that the online studies were in strict adherence to the Commission of University Education required standards. The graduands are fit for the job market and we encourage employers to consider them," said Shibairo at Mmust graduation square in Kakamega County.
Dr Peter Muthoka, Mmust Chancellor who presided over the graduation encouraged the graduands to be competitive in the job market.
Education Chief Administrative Secretary Mumina Bonaya noted that majority of universities have embraced both face to face and online learning but urged them to ensure they don't compromise on the quality of education they are offering.
"I'm glad to note that most universities have taken to hybrid learning through inclusion of open and distance learning to reach their clients. I emphasise that in adapting to the new normal, universities should not lose quality of the standards of education being offered," said CAS Bonaya.
This year, Mmust graduated 2,557 students (32 PhDs), Masters were 64, Bachelor's degree were 1,879 and 206 graduated with diploma certificates.
The institution's Chairperson Dr Jane Musangi revealed that Mmust was facing challenges in getting accreditation status for the School of Medicine and the School of Engineering.
"We are putting up a Tvet, Medicine and Engineering complex that will host classes and laboratories for health sciences. This is a huge investment and we are calling upon the Education Ministry to consider increasing development funds for this purpose," said Dr Musangi.
Excited parents
In Migori County at Rongo University, some 400 Education students were left out of the institution's first virtual graduation as Covid-19 disrupted their attachment.
Only 800 graduands out of expected 2,000 students graduated with diplomas, degrees, Masters and PhDs.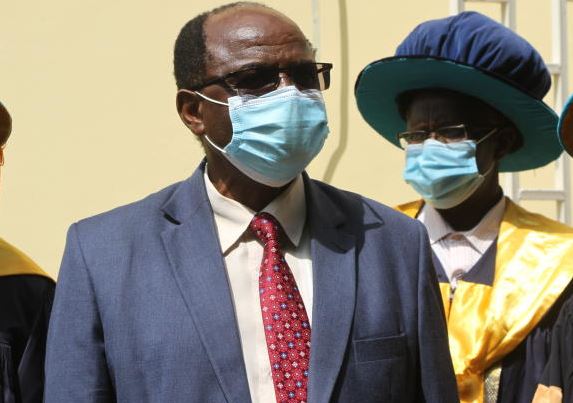 Vice-Chancellor Samuel Gudu (pictured) who spoke to The Saturday Standard on the eve of the graduation, said the students missed the big day after their attachment period was disrupted by the pandemic.
"Because of Covid, we will only accommodate 800 students in the graduation," said Gudu.
He noted that it was not the intention of the university to lock out the students out of the graduation.
John Adek, a parent said his son who was to graduate from the university was blocked from the event because he had fee arrears.
The graduation was attended by a few selected individuals which include PhD students and student leaders.
Other students, staff and parents followed the graduation online.
(Dickson Mwiti, Anne Atieno, Nathan Ochunge)