Key water project cuts off livelihoods of local farmers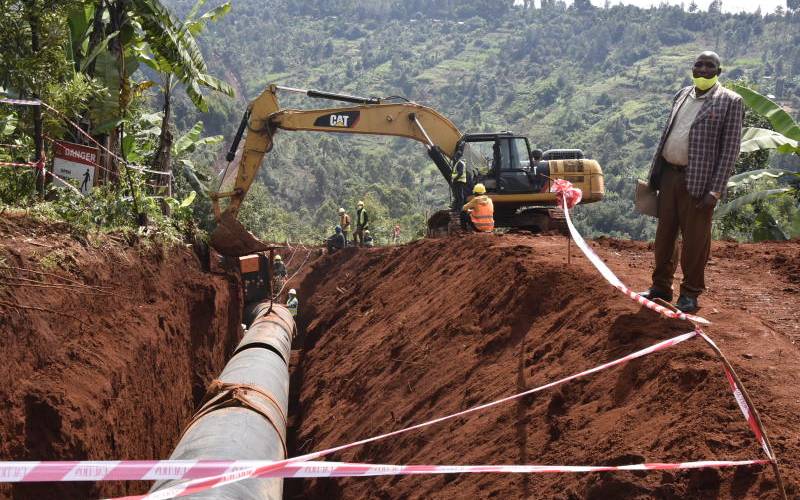 Michael Kimani was still asleep one morning a week ago when the roar of an excavator woke him up.
Kimani peeped through his bedroom window to see the giant machine inside his homestead and bearing down on his farm.
It then dawned on him that what he had dismissed as a rumour for a month – that the government was determined to forcibly take over part of his land for the multi-billion Northern Collector Tunnel water project – was coming to pass.
The Sh160 billion water project is designed to collect water from Murang'a and supply to Nairobi.
Kimani, a resident of Ng'ethu village in Gatundu North, is part of a group of farmers in Murang'a and Kiambu counties who have been affected by the project meant to increase amount of water supplied to Nairobi.
Farm destruction
The farmers are angry that the project is cutting through their farms without adequate compensation and consultation, as earlier promised.
They claim that Athi Water Services Board (AWSB) has already started digging trenches and laying pipes through their land, destroying crops and structures in the process.
More than 500 aggrieved villagers have protested that the project has destroyed their crops -- macadamia, banana and avocado trees -- which are their main source of income. Houses, cow sheds and chicken coops have also been demolished.
They accused the government of illegally invading and destroying their homes and crops and barring them from discussions to determine compensation rates.
They claim that despite the National Land Commission (NLC) doing a valuation of their crops and affected structures, it authorised the destruction before compensation.
Yesterday, Kimani claimed that his house and his brothers' were demolished, and that a neighbour was currently hosting him.
According to Kimani, a meeting between NLC, AWSB and affected villagers had reached a formula for calculating compensation, but that in 2018, this formula was discarded.
Affected residents then moved to court, which issued an injunction stopping further work on the farmers' land until the matter was heard and determined.
To date, the matter has not been determined and the bulldozers, guarded by the police, have roared back into their homesteads and land and are tearing through crops and buildings.
Simon Mungai, another resident, said they were not opposed to the project, but wanted the due process followed.
Mungai faulted the water board for failing to keep its promise to use a common formula for calculating compensation for the losses caused by the project. Instead, it is taking advantage of the poverty in the village to negotiate with individuals and offering them 'peanuts.'
"I lost my house and a cow shed and my macadamia and avocados. This was my source of income that has seen me put my children through school. What will Sh200,000 do for me while one season of macadamia fetches me approximately Sh50,000?" he asked.
According to Mungai, some villagers were coerced into signing compensation agreements. Eunice Njeri, a mother of five, called on President Uhuru Kenyatta to intervene and ensure all affected farmers are adequately compensated.
NLC response
In response to the complaints, NLC said it was in consultations with the affected villagers. "We have been able to resolve the contentious issues with most of the complainants who, we have since compensated," said NLC's Director of Communications Khalid Salim.
In 2016, ODM party leader Raila Odinga strongly opposed the project, saying it would dry up local rivers.
He described the project as a "tunnel of death," warning that it would adversely affect residents of Murang'a, Ukambani, Garissa, Tana River and parts of the Coast.