Kenya Pipeline MD Joe Sang not in for second term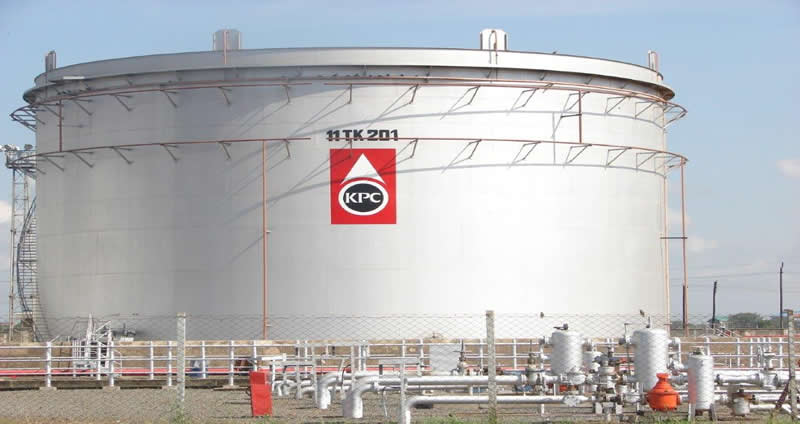 NAIROBI, KENYA: The Kenya Pipeline Company Managing Director Joe Sang will not seek second term in office, a crisis meeting called by Board learnt on Tuesday.
John Ngumi, the Board of Directors Chairperson confirmed that his team has received and accepted Joe Sang's letter stating that due to personal reasons he will not be seeking a second term as Managing Director.
"The Board will immediately embark on the process of recruiting a Managing Director," he said.
The MD's decision comes at a time when the Directorate of Criminal Investigations (DCI) and the Ethics and Anti-Corruption Commission (EACC) are conducting probes touching on procurement at the organisation.
Other reports indicated that an investigation into the Sh1.7 billion construction of Kisumu Oil Jetty were nearing completion.
The corporation contracted South Engineering Company to build the jetty that was meant to facilitate the transportation of oil through Lake Victoria to Uganda and Tanzania.
"You will see action soon. We are doing well in the investigations where Kenyans might have lost money through dubious deals," George Kinoti, the head of the DCI said.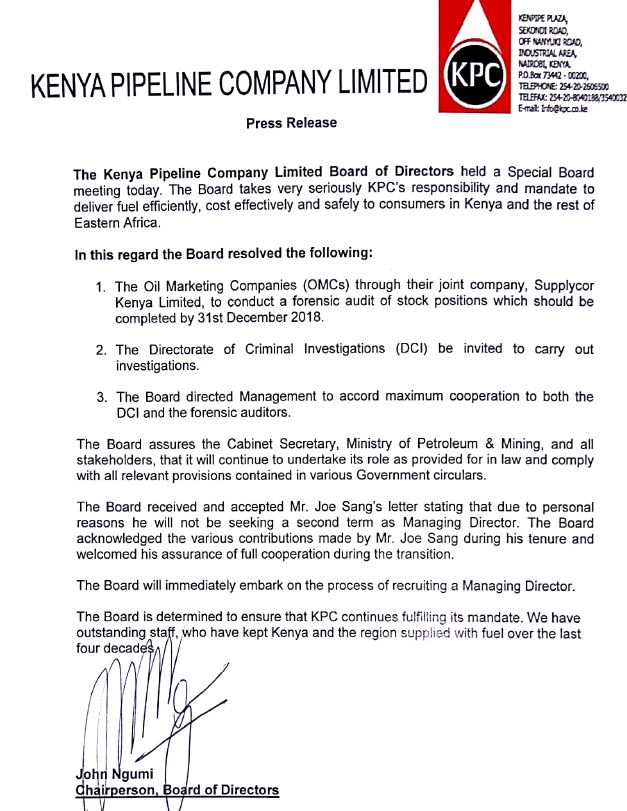 The Tuesday special Board meeting also came up with three resolutions among them that the oil marketing companies through their joint company, Supplycor Kenya Limited, to conduct a forensic audit of stock positions which should be completed by end of the year.
They also passed a resolution to allow Directorate of Criminal Investigations to be invited to carry out investigations and the Board directed management to accord maximum cooperation to both the DCI and forensic auditors.
This is happening in the wake of losses of hundreds of thousands of litres oil which the company blames on leakage but oil distributors will not hear of it.
They have therefore demanded an audit of oil stocks and made it clear that the cost of the losses must not be passed to consumers, a demand which the KPC board has honoured in today's communication.
Eyebrows have been raised as to why there have been no reports of major environmental disasters if the losses one of which reportedly happened at Lisa Ranch in Konza, Machakos County happened.
The other one is said to have happened in Ngong Forest. Environment and Forestry Cabinet Secretary Keriako Tobiko, however, he has not been informed of such a catastrophe.
The company has explained the losses as being contributed by a case in Kisumu where oil was being re-routed from the pipeline to a petrol station.
A farcical situation would arise when distributors discovered their trucks had been loaded with water but not fuel.
According to the Finacial Standard pull-out, taxpayers will not shoulder the burden of the losses.
KPC Finance Manager Samuel Odoyo told the Financial Standard last week that the liability of the spillages would be borne by insurance companies and oil marketers.
"We have a transport service agreement with oil marketing companies and it clearly states the liability of each party in the event of an accidental spillage or pilferage of products in the pipeline network," the pull-out quoted Odoyo as saying.doyo.
However, there were concerns that the cost of the loss may be passed on to consumers. According to company records, wrote the pull-out, KPC recorded seven leaks on its pipeline last year from three in the previous year and two recorded this year.
Kenya pipeline says 1,572 cubic metres (m3) of kerosene and 1,262 cubic metres of petrol accidentally spilt near Konza last year with another 1,265 cubic metres of petrol spilling in the same location in March this year.
In addition, 1,355 cubic metres of diesel were spilt earlier this year in Mazeras and Konza with another 502 m3 of Kerosene lost in Mariakani, Mombasa County.
"Some of these spillages were caused by rusted pipes that had lost their structural integrity over time and burst from the pressure," explained Odoyo.
In addition to the cases of accidental spillage recorded, KPC says illegal fuel connections were revealed in Koru, Kisumu County where 4,490 cubic metres of diesel and kerosene was syphoned to a petrol station nearby.
Another 1,200 cubic metres of the same was stolen in Ngong forest and Odoyo says the company has filed criminal cases with the police as well as insurance claims over the same.
Read more at: https://www.standardmedia.co.ke/business/article/2001304948/insurance-firm-to-pay-for-kenya-pipeline-fuel-leaks