Local agricultural suppliers to access wider market in Comesa region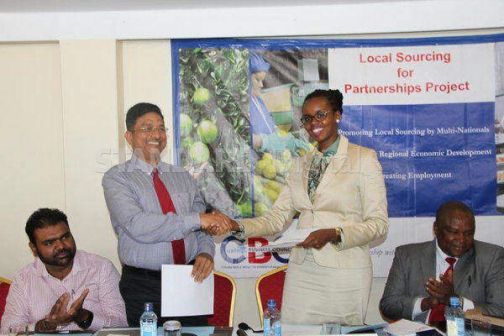 Small-scale farmers have something to smile about after an agreement that would guarantee them wider market access was reached.
The Local Sourcing for Partnership Project will see small local players in agribusiness link up with some of the biggest players in hotel, beverage and tourism sector in the region in a deal meant to promote local sourcing of agricultural products.
About 85 small micro-enterprises (SMEs) from Kenya are set to benefit from this project. They will sell their products directly to multinational food and beverages, hospitality and tourism sectors companies in Zambia, Rwanda, Uganda, Malawi and countries in the Common Market for Eastern and Southern Africa (Comesa) region.
Some of the blue-chip hotels that are part of this pact include TajPamodzi Hotel and the Protea Hotel in Zambia; Serena Hotel, Inyange Industries Limited and Bralirwa in Rwanda; Protea Hotel and Speke Group in Uganda and the Sarova Group of Hotels in Kenya.
There is also the Protea Ryalls Hotel in Malawi in what the organisers of the pact see is an effort to facilitate market linkages between local small growth enterprises and the multinational corporate companies in the Comesa region.
The project was conceived in March 2016 and is expected to boost local business farmers in their quest to find market for their products.
Yesterday, Comesa Business Council (CBC) in partnership with Kenya Sector Association of Manufacturers launched the second phase of the project.
"To date the project has provided training on the international food safety management system known as HACCP standards to about 480 SMEs in the six countries," said CBC Chief Executive Officer Sandra Uwera during the phase two launch ceremony.
Help build capacity
As observed, in 2013 Comesa's global trade increased by six per cent from $290 billion (Sh2.95 trillion) to $ 307 billion (Sh3.13 trillion) in 2014. On the other hand, the percentage of intra-Comesa trade to total Comesa trade has continued to grow slowly from regional levels of give per cent in 2005 to seven per cent in 2014.
The initiative is the work of Comesa Business Council (CBC), an association of private businesses in the Comesa region, in conjunction with the Investment Climate Facility for Africa (ICF), USAID- IPAA and the Private sectors.
Other than Kenyan suppliers, the initiative will also help build capacity for suppliers in Uganda, Ethiopia, Malawi, Rwanda and Zambia.
This is particularly the case in food safety management systems and standards and provision of a platform for market linkages. It will see SMEs in these countries get integrated into value chains at firm and sector level in Africa.
The two have already organised a buyer seller meeting which brought together six key corporate buyers in Kenya. Further, a mini expo for the local SMEs was organised in Nairobi to showcase their products and start trading relationships with the buyers.
Employers' lobby, Cofek clash over interest rate cap
An employers' federation has petitioned President Uhuru Kenyatta not to sign the Banking Amendment Bill 2015. Instead, the Federation of Kenya Employers (FKE) wants the Bill returned to Parliament to give room for more consultations.