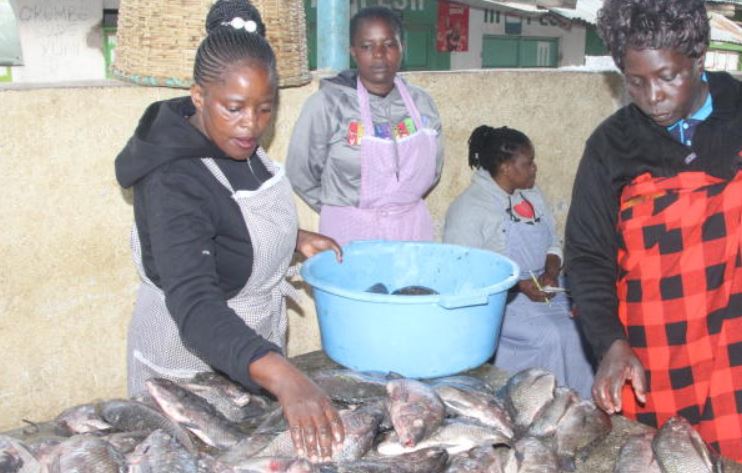 Local fish production cannot keep up with domestic demand, the Ministry of Agriculture has said.
The country's annual fish production last year was 146,543 metric tonnes valued at Sh24.5 billion, according to official data. However, the country faces a fish deficit of 350,000 metric tonnes if Kenyans were to consume an average of 10 kilogrammes per person a year.
The country recorded a 3 per cent increase in production of fish from farming or aquaculture to 15,320 metric tonnes, but inland and marine fisheries stagnated over the last one year.
This is according to data from the Department of Fisheries released yesterday as the government aims to boost its efforts in commercialising fish farming.
Read More
State Department for Fisheries Principal Secretary Micheni Ntiba said the troubles facing the industry are driven by high costs of production.
"Kenyans have now embraced fish eating, and the reason its consumption is lower than other proteins is that fish is still expensive. The only way we can make it affordable is by reducing the cost of production," Ntiba said.
Early this year, the government partnered with the International Fund for Agricultural Development (IFAD) to start an aquaculture business development programme to help commercialise the sector.
IFAD injected Sh6.8 billion to help small-scale farmers in pond construction and purchasing of fish feed in 15 counties.
Agriculture contributes about 30 per cent to the country's gross domestic product but the lack of funds to increase production remains a big challenge.
"The needs of the sector and in many of the value chains, such as warehousing, cold chains, transport and working capital, are still very high," said Kenya's Food and Agriculture Organisation representative Tobias Takavarasha.
Data from the Agriculture ministry shows that the country loses up to 30 per cent of its fish due to poor or no storage facilities for farmers.
"We have rolled out a manual for standard operating procedures for fish handling to all counties," said Ntiba.