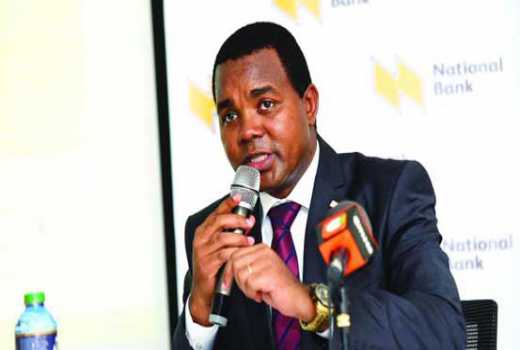 NAIROBI, KENYA: National Bank of Kenya is on the spotlight after an employee accused Chief Executive Officer Wilfred Musau of sexual assault and harassment.
The employee Asanta Samantha is demanding Sh55 million from Musau over the allegations.
It is alleged that Musau summoning her to his office where he purred about her good looks and asked her to be his girlfriend.
Such office encounters, she claims, would be followed by late night calls to repeat the comments.
Among other demands, Asanta is asking the court for job protection, restraining Musau from sexually harassing her and Sh55million in damages.
Read More
Asanta accuses Musau of summoning her to discuss a promotion she had earned during an interview on October 25. The meeting is said to have extended to 10pm, during which, she claims, Musau pulled and inched his chair close to her and tried touching her private parts.
She says that she jumped in protest but Musau "pulled me back and wrestled me to the ground and kicked my private parts and punched my breasts several times."
She reported the matter at Hardy Police Station in Karen, Nairobi, before seeking medical attention at The Nairobi Hospital.
To support her case, she has attached email correspondence, screenshots of Musau's messages and calls, statements she recorded with the police and hospital records.
Asanta, a manager in the mortgage section, filed her suit at the Employment and Labour Relations Court despite pressure from the bank's HR department beseeching her to withdraw her complaints.
Asanta's woes reportedly intensified when her promotion as business development manager was imminent after emerging as the best candidate following an internal advert in the bank listed at the Nairobi Securities Exchange.
In her affidavit, she claims that Musau "summoned me to his office and told me that I had emerged the best in the interview and had been recommended for appointment…" and that "my letter of acceptance was on his desk awaiting his signature without which I could not get the job."
Among Musau's demands, according to Asanta's affidavit, were that "If I wanted the job, then I should have sex with him."
National Bank and Musau are listed as the respondents who have since the filing of the suit engaged a law firm for representation.
Musau, an alumnus of Kenyatta University, Strathmore Business School and South Africa's University of Stellenbosch, joined National of Kenya as the director in charge of retail and premium division in September 2015 and was confirmed as CEO in October the same year after seven months as interim boss.