How President Magufuli Covid-19 stand boosted Kenya's cash flow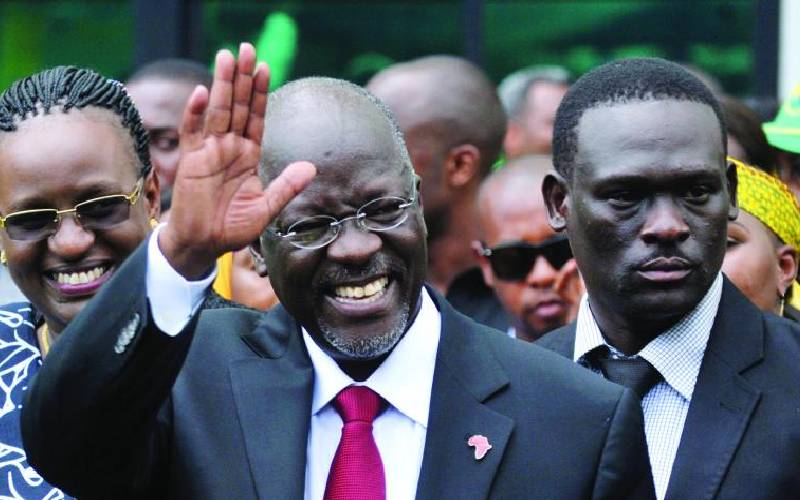 The controversial decision by the late Tanzanian President John Magufuli (pictured) to keep his country open despite the ravages of the Covid-19 pandemic might have benefited Kenya, after all.
This is after Kenyans working there sent an additional Sh1.6 billion back home in the 12 months since March 2020 when Kenya recorded its first case of Covid-19, the latest data on remittances by the Central Bank of Kenya (CBK) shows.
"They (Tanzania) did not shut down the economy. That means Kenyans working there were working throughout," said Scholastica Odhiambo, an Economics lecturer at Maseno University.
President Magufuli, described as a Covid-denier, only implemented containment measures in the first two months of the pandemic, after which he instructed Tanzanians to revert to their normal economic and social activities.
At some point, he announced that through God's intercession, Tanzania had been freed from Covid-19.
Joy Kiiru, a senior economics lecturer at the University of Nairobi, said the official position in Tanzania was that Corona was not such a serious disease to warrant the economic suffering.
"Tanzania continued to operate as usual so there have been heightened economic activities," she said.
Take a quick survey and help us improve our website!
Take a survey
Dr Kiiru, however, said she could not tell whether there was increased outflow of capital, with more Kenyans investing in Tanzania.
According to the 2018 Foreign Investment Survey by the Kenya National Bureau of Statistics (KNBS), the East African Community was the main destination for Kenya's investments abroad with a share of 56.5 per cent and 61.4 per cent of the total stock of foreign assets in 2016 and 2017, respectively.
By end of 2017, Kenyans had investments worth Sh51.5 billion in Tanzania. And with the economy allowed to operate, the Kenyans might have repatriated excess profits back home.
Dr Odhiambo said the increased remittances from Tanzania were a reflection of a good investment climate and foreign exchange policy in Tanzania, contrary to what had been feared.
"Conditions might not be as bad as we have been meant to believe," she said.
With Covid-19 ravaging Kenyans, their brothers and sisters in the diaspora - many of whom had equally been affected economically - responded to the distress calls back home.
Remittances from Saudi Arabia increased by 85.6 per cent, or Sh6.4 billion in the 12 months.
Qatar recorded the second highest with remittances increasing by 79.4 per cent.
The two Gulf States are popular destinations for Kenyans looking for jobs, especially in the construction and household sectors.
Tanzania, a member of the East African Community (EAC), was third.
Free to work
The EAC Common Market Protocol says citizens in the five member states are free to work and live in any of the countries.
However, Dar es Salaam is reported to have insisted on citizens from other countries acquiring work permits.
The money sent remitted was a boost to the Kenyan economy, which shed 1.7 million jobs in the second quarter of 2020.
This was even as inflows from other African countries reduced substantially.