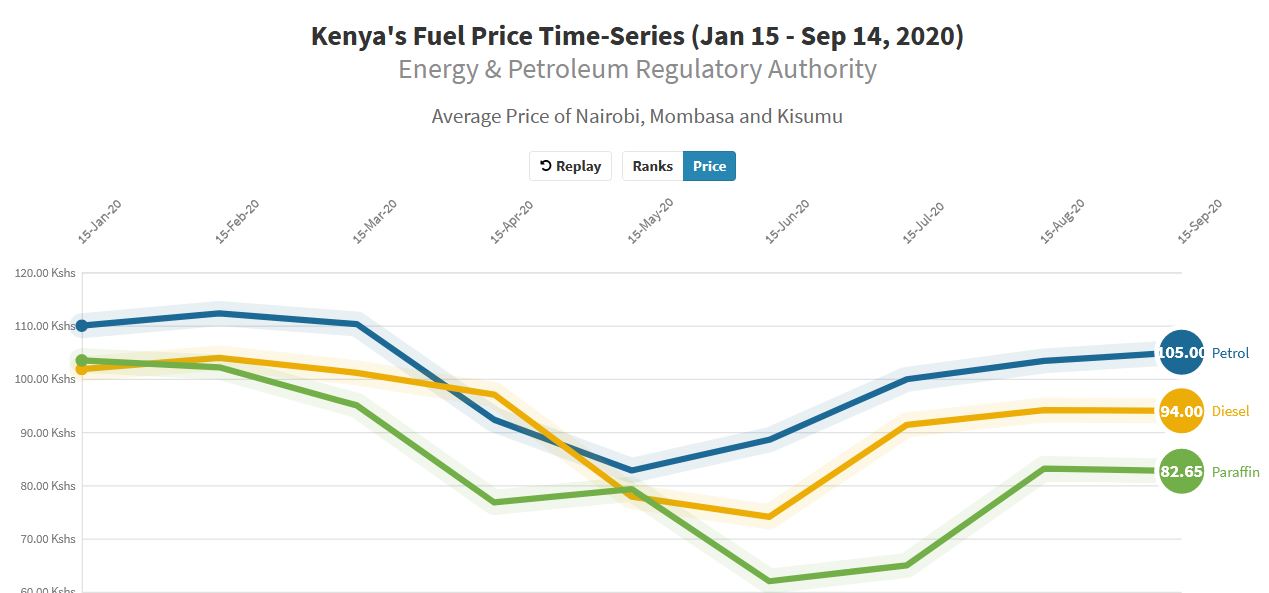 NAIROBI, KENYA: Petrol price has gone up in new adjustment by the Energy Petroleum Regulatory Authority (EPRA)
Diesel and Kerosene prices however have decreased marginally.
"Taking into account the weighted average cost of imported refined petroleum products, Super Petrol increases by Sh1.48 per litre, while Diesel and Kerosene decrease by Sh.12 per litre and Sh0.50 per litre respectively.
EPRA said the changes in this month's prices are as a consequence of the average landed cost of imported Super Petrol increasing by 2.65 per cent from USD 319.23 per cubic metre in July to USD327.69 per cubic metre in August.
"Diesel decreasing by 1.02 per cent from USD333.27 per cubic metre to USD329.88 per cubic metre and Kerosene decreasing by 2.06 per cent from USD 288.01 per cubic metre to USD 282.09 per cubic metre."
Read More
Acting Director-General EPRA Mueni Mutunga said the prices are inclusive of the 8 per cent Value Added Tax in line with the provisions of Finance Act 2018 and tax law (amendment) act 2020.
Meanwhile Reuters last month reported that the government plans to start a diesel price stabilisation fund, the first attempt to reduce volatility in the price of the widely used fuel.
Motorists will pay an extra Sh 5 per litre of fuel at the pump, which will go towards stabilisation of the diesel price in the future, said Andrew Kamau, the principal secretary in the energy ministry.
"When the prices go beyond a certain limit, you will get that money back. It will cover diesel for the time being," he told Reuters.
The price point at which the stabiliser will kick in will be set out in rules to be published by the government "imminently", he said.
Diesel is the most consumed fuel in the economy.
"It transports goods, it transports the majority of people of this country. This is to cushion all of us," Kamau said.