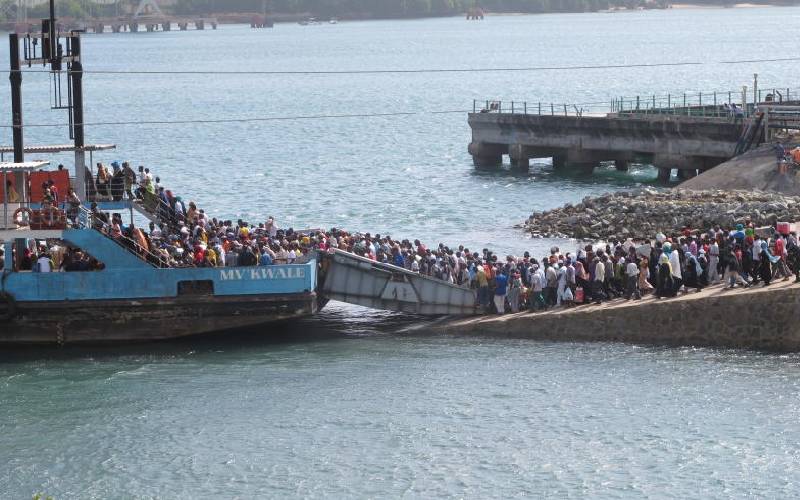 Kenya's top security organ has approved a plan to erect a temporary 529 metre floating bridge across Likoni Channel.
The bridge, a document by the Kenya National Highways Authority (KeNHA) reveals, will ease congestion on ferries and lower risk of contracting Covid-19 on the vessels.
According to the document, the National Security Council made the decision at a meeting on April 13. Curiously, the cost of the project is not indicated. It is also not indicated when the stated firm was awarded the contract.
"Construction of the floating pedestrian bridge is a high level decision in government response to the Covid-19 pandemic and the human congestion at the Likoni Channel," according to the report which indicates the project has been awarded to M/S China Road and Bridge Corporation by the State Department of Infrastructure through KeNHA.
Finer details
Read More
Under Kenyan law and policy, the channel is classified as a national highway managed by KeNHA.
Officials have not provided finer details of the project and how it will affect maritime communication across the busy channel into Kilindi harbour, but insist this should not be confused with the long delayed and proposed permanent bridge across the water body.
Meanwhile, the exact science and technology is yet to be explained but in the document, it sounds complex and futuristic. It is also not clear whether the proposed bridge will be rolled back later. We were also not able to locate where the exact the bridge will be erected on the channel.
According to the document, the effective date for commencement of the contract is May 20. It is to be completed in six months with November 27 stated as date of completion.
According to the project brief, the proposed floating bridge will be a composite structure designed for pedestrians only. The bridge deck will comprise of a 529 metres long floating section and 54 metres long approaches on either side of the floating span.
The floating bridge will be connected by pins and hinges. Guard rails will be installed on either side of the deck to ensure pedestrian safety. Covid-19 infections have soared in Likoni and this is in part sparked by congestion on the ferries that carry more than 300,000 commuters every day.
Likoni sub-county commissioner, Francis Kazungu said majority of Likoni residents work outside the area, mostly in Mombasa town and use the ferry crossing each day.
"We have had serious challenges as far as maintaining social distancing is concerned," Kazungu said.