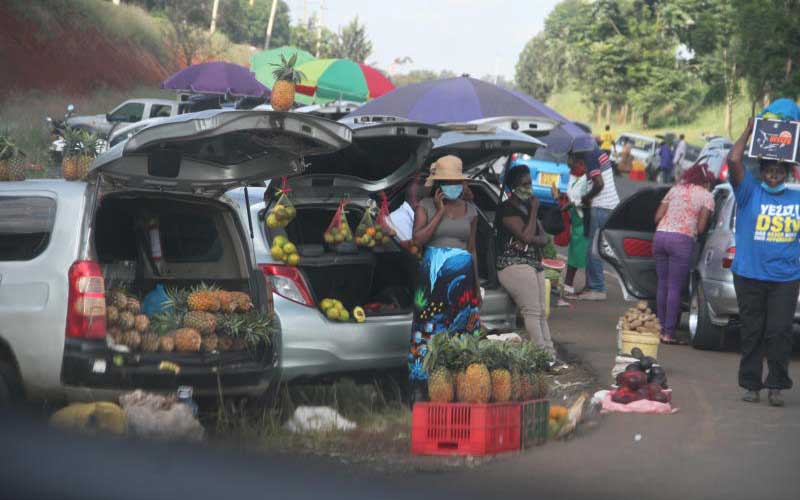 The navy BMW X1 was parked outside Equity Bank along the Kasarani-Mwiki Road, its boot open. The back seats had been folded flat and a thick plastic sheet was stretched over them.
A heap of purple-red onions populated the interior, and a small digital weighing scale hang from the door of the boot.
David Kimani, the lone seller, stood to the side as a small crowd milled around the car. Buyers rummaged through the pungent vegetables, picking the biggest bulbs and dropping them into bags.
Next to Kimani's car was a Toyota Probox and a peek inside the open boot revealed the green hue of fresh maize.
Kimani, who was dressed in a striped light blue V-neck T-shirt and a pair of jeans looked out of place selling farm produce out of his German machine, fancy watch and all.
But there did not appear to be any judgement from fellow sellers, who included a group of market women in their red or green aprons seated across the road and busy trying to catch the attention of passers-by.
"My price is slightly lower than theirs," said Kimani, revealing that he was selling one kilo of onions for Sh130.
The 32-year-old IT consultant said he had been rendered jobless after international flights were stopped to curb the spread of the coronavirus disease.
"The contracts I had involved a lot of flying out of the country. I cannot do that anymore so I had to find some way to keep myself occupied."
Kimani's predicament is not unique. He is among thousands of Kenyans who have lost their regular sources of income as the pandemic wreaks havoc on the economy.
Determined to scrape a living, he teamed up with his cousin and they got into the business of selling onions.
Consulting work
"My cousin can still move out of Nairobi so he sources the onions from Nyeri while I sell them. I am here for about two hours each day and mostly in the evenings because I still do consulting work from home," said Kimani.
Also nearby was Maina Gathonjia who had turned his Toyota Fielder into an egg shop, with one tray selling for Sh290.
"I have been here for three weeks," he said. "Some of us cannot stay home without earning. I have never done this before."
"On Monday, I went to Ndaka-ini in Murang'a where I bought the stock that I have now. I came straight to the market and did not even unload it from the car."
Where the coronavirus had led to the loss of opportunities, it has created others. And although it looks like a new phenomenon, car boot sales have been around for years. Farmers long used to getting short-changed by brokers discovered that the only way to earn more money was to sell directly to buyers.
In Nairobi's residential areas, the number of boot sales has skyrocketed as they allow locals to earn an income without the hassle of renting business premises.
Many sellers prefer to set up shop along the Northern Bypass where cars laden with cereals, fruits and vegetables stretch hundreds of metres on both sides of the busy highway.
Most sellers are new to the game, especially those from the white-collar sector who have been recently laid off, are on unpaid leave or have been forced to take salary cuts.
Then there are the taxi drivers looking to supplement their income because they can no longer make trips out of the city after the government imposed travel restrictions.
Valentine Majanga, 30, a mother of one who works in the hospitality industry, which is one of the hardest-hit sectors, is now selling fish and seafood to survive.
She and her husband, who also lost his hotel job, used their savings to set up the business at Muthiga - a small busy town along the Nairobi-Nakuru highway.
"My husband and I were affected by this pandemic. None of us currently has a salary and we need to earn a living," said Majanga.
The couple buy their fish from Mbita in Homa Bay County, deep fry it and sell to passing customers. They also make home deliveries to clients who place orders via their social media account.
"It is a sustainable back-up plan considering the situation we are in, and how delicate the hospitality industry is now," she said.