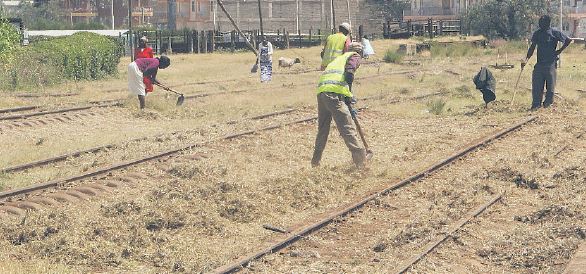 Rehabilitation of the 240-kilometer old meter-gauge railway from Nairobi to Nanyuki has started, in a move expected to ease the cost of transport of goods in Mt. Kenya region and lead to the revival of the now nearly dead former 'Railway Towns' in the region. Kenya Railways Corporate Affairs Manager Margaret Kawira confirmed the works have started. "We are securing and clearing the corridor in preparation for the works," she said. The rehabilitation works have started in Nanyuki, Laikipia Governor Nderitu Muriithi confirmed to Mt. Kenya Star. He said the works, being undertaken by the Kenya Railways Corporation will cost Sh3 billion.
SEE ALSO: Madaraka Express passenger service resume on Monday
The works have started a week after Mt.Kenya governors met in Nairobi to agree on kick-starting the project which has delayed since 2017 when it was first proposed. The revival is seen as part of President Uhuru Kenyatta's plan to accelerate implementation of promised development projects in the region that has become politically restive in the recent past. Muriithi said that during the meeting, the Kenya Railways Corporation management agreed to inject Sh1 billion immediately into the rehabilitation works, with the balance to be raised by the National Treasury. Earlier, Kenya Railways officials told Mt.Kenya Star that the plan is to upgrade the current railway line from a 50-pound-load type, which is only capable of carrying three light locomotives to 80-pound load so that a single train can carry 1,400 tonnes of goods. The railway line serving greater Mt. Kenya region has two branches. The first branch, which is undergoing rehabilitation starts from Nairobi-Ruiru-Thika- Makuyu-Murang'a-Sagana-Karatina- Nyeri-Naro Moru-Nanyuki.
SEE ALSO: Mr President, where are the nine stadiums, 500, 000 houses?
The second branch starts from Nairobi-Limuru-Kijabe-Longonot-Gilgil-Ol Kalou- Nyandarua. Mt. Kenya region has been depending only on road transport, meaning that farmers incur high costs of transport especially those ferry-ing bulk goods. Its revival means that produce like coffee, tea, macadamia and other destined for sea export will be transported to the Port of Mombasa directly by railway, cutting the transports costs by nearly a half, money that will be retained by farmers and traders as profit. "The road transport has been the only alternative mode of transport for bulky agricultural cargo as well as commercial goods such as oil. Compared to rail, road transport is expensive both to farmers and business people and greatly shortens the lifespan of our highways," said Laikipia Governor Ndiritu Muriithi, one of the initiators of the new project. Governor Muriithi said rehabilitation of the railway would be done in three segments in a period of five months.