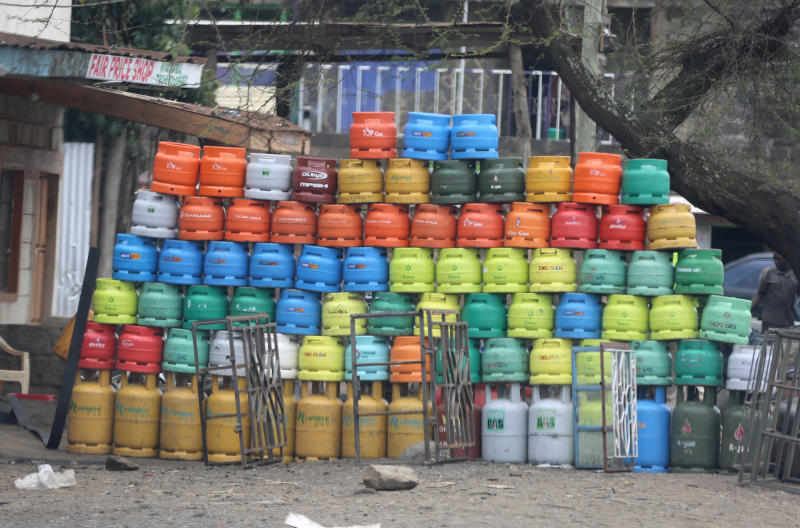 Financial Standard
Small companies dealing in cooking gas have over the last two years nearly dislodged major oil marketing firms in investments in LPG refilling
Small companies dealing in cooking gas have over the last two years nearly dislodged major oil marketing firms in investments in the liquefied petroleum gas (LPG) refilling business. Their growth now seems poised to snatch the larger share of the market from the industry's big boys. The small and mid-sized dealers currently own and operate 30 gas cylinder refilling plants, or about 42 per cent of the 73 plants in the country. Many of the plants constructed by the small gas companies in the last two years operate under aegis of the Energy Dealers Association (EDA). Other similar firms have also sought regulatory approvals to construct other plants.
SEE ALSO: Kerosene prices go up by Sh2 leaving poor Kenyans exposed
The major oil players own 12 plants or about 16 per cent of the total plants in the country. The plants owned by the oil majors are, however, large in terms of capacity and account for about 35 per cent of storage capacity, almost at par with the many plants owned by the EDA-affiliated firms. "The authority licensed additional LPG storage and cylinder refilling plants to increase competition and to ensure availability of LPG throughout the country. To date, there are 73 such LPG cylinder-refilling plans with a total storage capacity of 6,293 tonnes," said Energy and Petroleum Regulatory Authority (EPRA) in a report detailing the trends in the energy sector in 2019. "Of these, the Energy Dealers Association own 30 plants - equivalent to 41 per cent of the total number of plants and 31 per cent by storage capacity. The major oil marketing companies (OMCs) own and operate 12 plants which is about 16 per cent of the total number of plants and 35 per cent of by storage capacity. The remaining 30 per cent belong to firms that are neither OMCs nor members of EDA and own 42 per cent of the total number of plants and 35 per cent by storage capacity." While keeping prices of liquefied petroleum gas stable, more investments might not save consumers from increases in retail prices, owing to factors that marketers say are beyond their control. The dealers are now pushing for price hike, citing an increase in the cost of natural gas globally. Players say the cost might go by up to Sh25 per kilo - translating to about Sh325 more cash to refill the 15kg cylinder and Sh150 more for the six-kilo cylinder.
SEE ALSO: Reprieve at the pump as petrol, diesel prices drop
Price controls
Refilling a 13kg cylinder currently costs about Sh2,200, according to the latest data by the Kenya National Bureau of Statistics (KNBS). There has been a push to control the price of cooking gas, a move that EPRA said might not be ideal. The regulator attributes its opposition to limited facilities to handle LPG being imported into the country. There have, however, been reports that LPG dealers are making a killing in the liberal environment devoid of price controls. According to a recent study commissioned by EPRA, the companies dealing in LPG take about half of the retail price they charge for cooking gas as profits. Of the Sh2,000 that consumers pay to refill a 13kg gas cylinder, Sh1,031 caters for the acquisition of products, taxes and delivering it to retail outlets.
SEE ALSO: Regulator further reduces petrol, diesel prices
This leaves about Sh1,000, or just about half of what it costs to refill the gas, as gross profit for the marketers. Even with costs such as running a retail outlet, the marketers are still making a handsome profit from the sale of cooking gas. The report, titled Cost of Services in the Supply of Petroleum Products (COSSOP) and published mid-2019, urged EPRA to keenly watch the industry and even publish indicative retail prices that would guide consumers when buying cooking gas. The COSSOP study was commissioned by energy sector regulator last year and undertaken by Kurrent Technologies, an energy consultancy firm. The regulator used some of the report's findings to review the fuel capping formula that has since 2010 been used to set maximum prices for super petrol, diesel and kerosene.
SEE ALSO: Motorists expect huge drop in cost of diesel
"There is (a lack of) reliable data and other information to permit the regulator to immediately embark on LPG price monitoring and publication of indicative LPG retail prices," read the report in part. "This is necessary to bring transparency to LPG pricing while ensuring fairness in consumer prices. This will be a prelude to full LPG retail price regulation when effective imports and open tender system (OTS) systems are in place." Oil marketers, as well as other firms selling LPG, have been against it, arguing that it offers them an avenue to offset what was lost in income when the price of fuel was capped.
Cleaner fuel
The counter-argument, however, is that high prices have stagnated growth in the use of LPG - a cleaner fuel compared to kerosene, charcoal and wood used for cooking and lighting by many households.
SEE ALSO: Queries as oil firms seek higher prices
A major hurdle that has been cited by the Government in its refraining from regulating prices even when it is clear that LPG firms have been exploiting Kenyans has been lack of State-owned facilities to allow large-scale importation of cooking gas. Such a facility, as is the case with petroleum products, would be a common-user facility available to all LPG dealers. Large discharge facilities would also enable importation of more gas through an open tender system (OTS), which would be akin to the one used in importing petroleum products. Under the OTS, one firm bids to import a large shipment on behalf of the other players where they can enjoy economies of scale in shipping by use of large vessels. At the moment, more than three-quarters of the gas imported to Kenya is offloaded and stored in a terminal owned by Africa Gas and Oil Ltd. The Ministry of Petroleum has in the past said price controls are unlikely as it cannot dictate the terms of use for the privately-owned terminal.
[email protected]