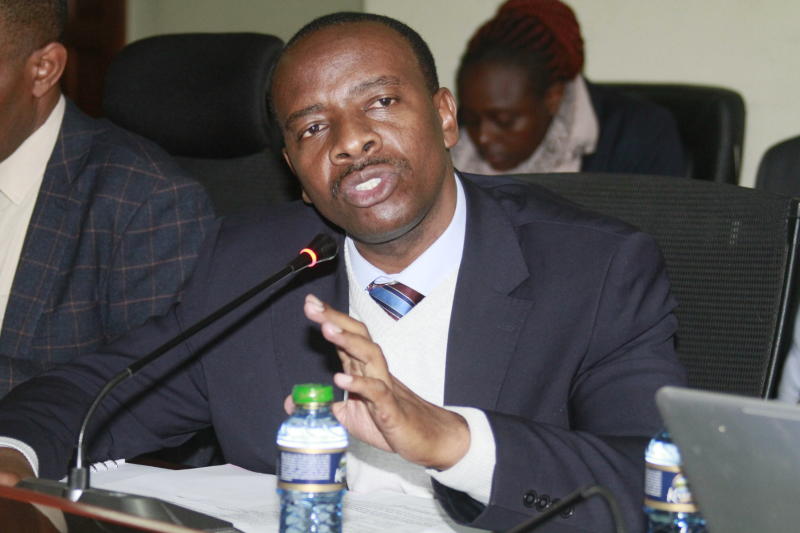 Bernard Njiraini was recently appointed Kenya Bureau of Standards (KEBS) managing director – taking over from Bernard Nguyo, who held the position in an acting capacity. Mr Nguyo goes back to his former position as Kebs quality assurance officer. Lt Col (Rtd) Njiraini, a former production manager at the Kenya Ordnance Factory Corporation, talked to Financial Standard about what his plans for the standards body are.
Many Kebs bosses have been hounded out of office unceremoniously and their careers destroyed. How do you plan to do things differently?
Yes, a number my predecessors have indeed exited the organisation nastily. From my short tenure in this office, it requires strong personality and leadership, deeply rooted in ethical corporate governance guided by high moral values and integrity.
SEE ALSO: Kebs boss arrested over graft allegations
To succeed, an MD must resist all forms of manipulation and be guided by national interest. I have taken up the job with a clear mind of what I want to achieve that my predecessors failed to – the independence of actions guided by objectivity in line with Kebs' mandate.
What's top on your priority list?
I will pitch for the transformation agenda that involves culture change among the personnel. This is meant to transform the mindset of Kebs' staff to deliver services on time, efficiently and diligently.
Kebs has often been accused of graft, where traders conspire with your staff to allow the shipment of sub-standard products, killing local industries. Your take?
I must admit there is a challenge where as a regulator, Kebs and others have not performed well to contain the influx of sub-standard goods. That is why we joined hands with other government agencies under a multi-agency approach to fight the menace.
SEE ALSO: KEBS boss Benard Njiraini arrested
The momentum is still on. We have heightened our market surveillance in the recent past and banned several products after realising that manufacturers were not complying with standards, including on light gauge mattresses, structural steel and plastic pipes, peanut butter and maize flour.
There are complaints that Kebs has made it difficult for SMEs to get the standards mark. What measures are you putting in place to address this?
One of our roles is to promote and facilitate trade through standardisation, metrology and conformity assessments. We encourage SMEs to have their products certified through discounts where we charge a small fee for certification based on these businesses' annual turnover, at Sh5,000 for SMEs with a turnover of less than Sh200,000, Sh10,000 for SMEs with a turnover of between Sh200,000 and Sh500,000. This is compared to the Sh20,000 application fee and Sh7,500 cost per product per brand for well-established firms. Kebs is also reviewing inspection charges with a view to reducing them to lower the cost of imports.
SEE ALSO: EACC arrests Kebs boss Benard Njiraini
Was the process of reinstating banned maize flour and peanut butter above board?
The market surveillance conducted a routine survey on the quality of the subject products and established that aflatoxin levels were above the acceptable limits based on samples picked from shops. Kebs operates a product certification scheme that requires manufacturers to implement quality assurance measures. It then tests samples of the product and if they comply, Kebs then grants the manufacturer a permit to use the standardisation mark on the product label. The manufacturer is then required to adhere to the certification scheme of supervision and control throughout the validity period (one year).
A recall of non-compliant products is rare in Kenya. You instructed manufacturers to recall their products. Did this happen, and is it one of your strategies going forward?
Alerts, recalls and withdrawals of products are used globally to protect consumers. Alerts are issued either voluntarily by the manufacturers or by State agencies. Toyota had to recall 5.2 million vehicles for the pedal entrapment or floor mat problem. In our case, the products failed due to inputs of contaminated maize and peanuts. Once manufacturers stopped using these contaminated maize grains and peanuts, their products conformed. I can confirm that the firms recalled the batches with a problem and destroyed them. The batches which were sampled were produced in September and the stocks were not significant. On aflatoxin contamination, it is important to note that it occurs in pockets, and a morning production could be contaminated while the afternoon production is clear of toxins. I can attest that after publishing the names of non-compliant companies, the market has set up self-regulation. So yes, I will continue to use this strategy to get non-compliant products out of our market.
[email protected]