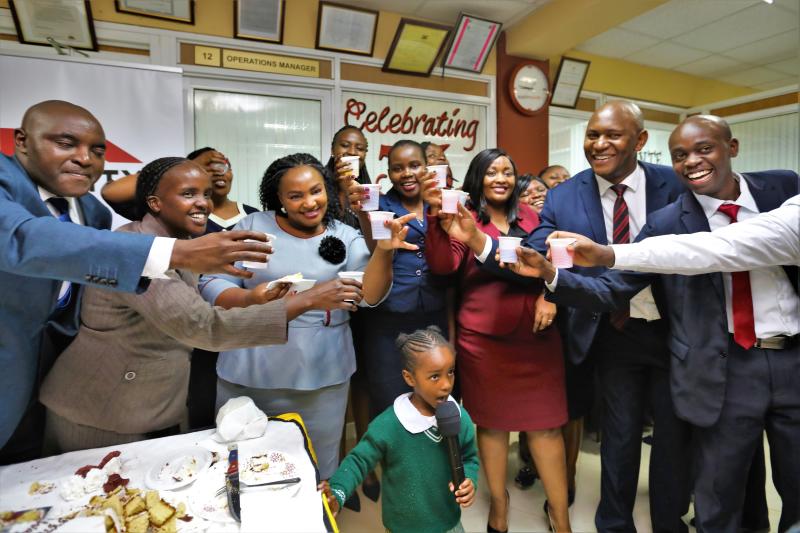 Mid last week, Equity Bank and her customers met at the Comesa grounds at KICC to celebrate 35 years since the bank was founded. The ceremony was in a big tent elaborately set with artificial tiles to make the floor look good. The big tent made me realise that in future, open spaces could be more valuable than built up space. You may need to postpone building up that "kaplot" of yours. Interestingly, 35 years is not usually that celebrated - unless one wanted to be the country's president in the past constitution. The usual landmarks are 25,50 and multiples.
SEE ALSO: Equity pulls the plug on plan to buy Atlas Mara
They even have names like silver, gold and platinum.
Come of age
Choosing an unusual number could be one way to show competitors that Equity is different. They could be sending some message to competitors: "We have come of age". Fireworks over the iconic KICC started the evening. The ceremony in the tent was full of symbolism.
SEE ALSO: Equity ends proposed acquisition of Atlas Mara
There was the dedication of the bank by a group of bishops and even a sermon. The retired chairman and founder Peter Munga got a traditional stool, a flywhisk and a walking stick. There was a light moment as he used the fly whisk to try and "bless" the board members. A violinist, Scott Mwangi, reminded us of Mozart, Beethoven and other great classical musicians. Has anyone told Mercy Masika how talented she is? Among the highlights was Equity Group rebranding to simply Equity. Interesting because that is what we call it!
SEE ALSO: I&M Holdings, Co-op top bank rating for first quarter 2020 – Cytonn research
Kenya Power rebranded from KPLC based on the same principle. The logo looks simpler, perhaps reflecting the bank's humble roots in Murang' a. This county, though, gives me nightmares. A girl I tried to marry from there rejected me because I was "too serious." That is what she told me years later over a cup of tea. And she never married. There were speeches and music too. Some interesting quips stood out like "Equity is a movement and is targeting assets worth a trillion shillings and presence in more countries". The occasion made me feel that Equity has reached a watershed, it is no longer the small bank with Murang' a roots. In a generation, to quote Equity founders, the bank has grown beyond the borders. It is now a pan-African bank. Deputy Central Bank of Kenya Governor Sheila M'Mbijjewe alluded to the need for our own banks. This was a great insight; no country has grown economically without riding on its banks and financial system. Even the British Empire had its banks, some still around long after the wind of change set the colonies free. Chinese economic growth has leveraged on banks and the availability of credit. A well functioning financial system is like a lubricant in a car. The banking sector is one bright spot in the Kenyan economy. It should be a source of national pride and the best evidence that we can transform this country in a generation or less. In which other sectors have local firms run multinationals out of the market? Can other sectors replicate the success of Kenya's banking sector? Suppose our universities outdid Harvard? Suppose our computer firms outdid IBM? Suppose Java outdid McDonald's? Suppose Naivas outdid Walmart?
Veiled message
Let us return to Equity's birthday. What does age 35 mean? Was this celebration a thinly veiled message to the banks currently merging that "we are around"? Age 35 is a rough transition point to the middle age and its famed midlife crisis. Is Equity prepared to ride the midlife crisis characterised by the feeling of wanting to be young again and feeling that you are stuck in a rut? Is opening branches in other countries a reaction to the midlife crisis? Is the Equity team, from board members to grassroots, ready for the next phase? We could ask a bolder question; when is Equity crossing the Mediterranean, Atlantic and Indian Ocean? I want to find the Equity logo in USA, China, Kyrgyzstan, Ecuador and Tasmania. The dream of the founders should get new purveyors, men and women willing to expand the bank and explore new business opportunities. As Equity expands, other homegrown brands are being sold. I have in mind schools and insurance firms. Equity should serve as a model for scaling up and succession as old money gives way to new money built on entrepreneurship riding on technology and globalisation. By age 70 or earlier, Equity should be present in all the continents including Antarctica which could become habitable because of global warming. And who knows, with all the excitement about space, Equity could be on another planet by 70 years. Never mind that with information technology and fintechs, banking could be vastly different. Equity shows that we should never stop dreaming big. After all, one of our own, Lupita Nyong'o, reminded us that all dreams are valid.
-The writer teaches at the University of Nairobi