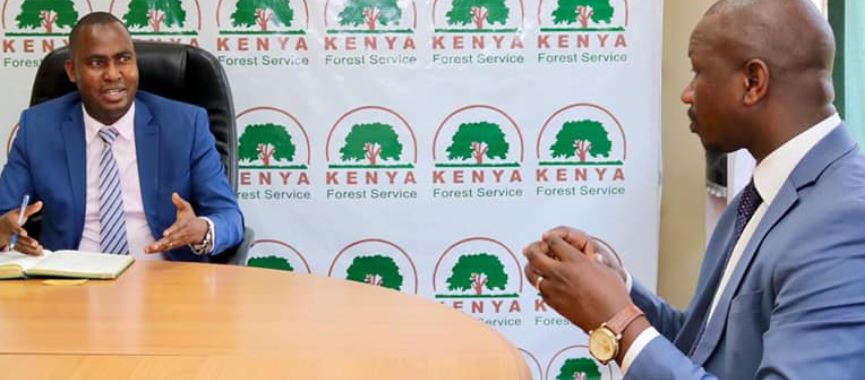 NAIROBI, KENYA:
The Counties Assemblies Forum has committed to working with the Kenya Forest Service to protect community forests under the jurisdiction of county governments. As noted by Chief Conservator of Forests Mr Julius Kamau, the community forests under the jurisdiction of the County Government continue to face threats such as conversion to other land uses. "We commit through the County Assembly Forum to help in formulating legislations that would deter such change on land use and protect them as forests for ecological and social-economic benefits," said Secretary-General, County Assemblies Forum (CAF), Kipkurui S. Chepkwony Speaking during a meeting in Nairobi, Mr Kamau also proposed that the CAF could help in establishing ward forests (green spaces) in all the shopping centers in the wards. The ward forests can be used for recreational purposes and provide employment to the community members especially the youth.
SEE ALSO: State targets to plant 470m trees by 2022
Kipkurui indicated that he would raise the idea to the CAF in order to inform the planning and budgeting processes going forward in the 1,250 ward units, especially with the current high rate of expansion of urban settlement due to devolution hence the need for securing green spaces. The SG through the CAF committed to reaching out to the 2,250 MCAs representing various wards in the country to become ambassadors of forest conservation and champion tree growing while holding their public barazas as they regularly interact with members of the public. At the meeting, the two leaders deliberated on possible ways of strengthening partnership and collaboration between Kenya Forest Service and County Assemblies Forum on forest conservation, management, and protection. The counties representative stated that there is a need to formulate and harmonise forestry-related legislation in all Counties to enable the County governments to develop, finance and execute County Forestry Programmes in line with the Transition Implementation Plans (TIPS). KFS has deployed Technical Forest Advisors in the counties to assist build their capacity to effectively implement the TIPS.
SEE ALSO: Pay up dues or risk strike from healthcare workers: KMPDU
The CCF urged the SG through CAF to mainstream Forestry extension roles into the existing agricultural extension officers especially with regards to the implementation of the Agriculture (Farm Forestry) Rules 2009 that requires 10 per cent of every farm to be under trees.