Business News
It has emerged that the machine has been faulty for more than a year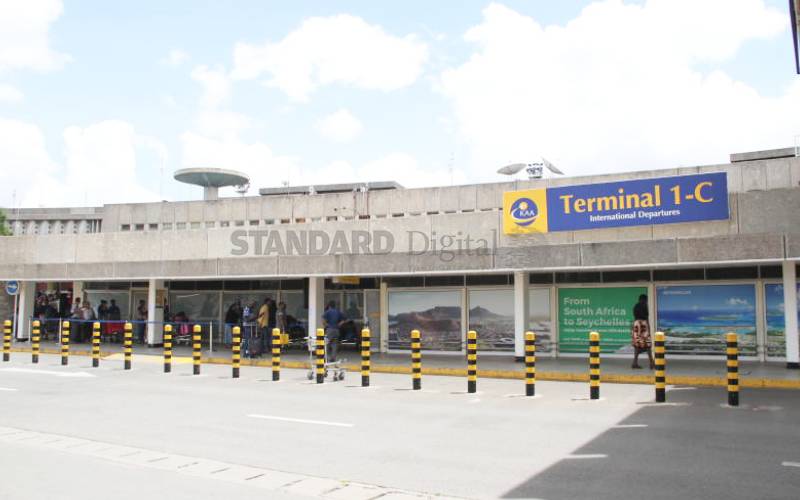 A security screening machine at the entrance of Nairobi's Jomo Kenyatta International Airport installed at a cost of Sh600 million is faulty. It has emerged that the machine has been faulty for more than a year over the failure to secure a maintenance contract between the supplier, Rapiscan System, and the Kenya Airports Authority (KAA). It has barely been two years since the machine was commissioned, and the situation is now the subject of a Directorate of Criminal Investigations (DCI) probe.
SEE ALSO: DCI officer arrested for allegedly raping woman in police cell
"The investigations are touching on a contract between KAA and M/S Magnate Ventures Limited with the scope being the design and installation of screening facilities at the Jomo Kenyatta International Airport (JKIA) and other airports," reads an affidavit filed in court by Samuel Kirichu, an investigating officer from the Banking Fraud Investigation Unit.
Joint venture
At the
centre
of the disagreement is an annual maintenance fee of about Sh9 million that KAA is not ready to pay until a tender is floated and won. This is 3
per cent
of the amount tendered after the expiry of the warranty period. The Primary Security Screening Facility at JKIA was installed in September 2015 by the American-based firm through a joint venture with Kenyan company Magnet Ventures Ltd. KAA entered into tender No. KAA/ES/HQ/918/E with M/S Magnate Ventures Ltd and JV High Technologies Detection Systems (HTDS) for a sum of $5,848,226.50 (about Sh600 million), commencing March 2015.
SEE ALSO: There is no choice; DPP and DCI must cooperate
Insiders said there has been a turf war between security and engineering departments at KAA on who should run the scanner, which may have led to its current state of affairs. The X-ray vehicle scanner that was commissioned on September 10, 2015, was reported to be faulty in January 2017, just a few months after KAA certified it. This has now attracted the attention of DCI detectives who have commenced a probe. "The gantry was successfully installed, tested and commissioned and is currently working to our satisfaction," KAA engineer David Kamau wrote
in
February 15, 2016. And on March 29, 2017, KAA wrote to Magnate Ventures to relieve it of its obligations on maintenance in accordance with the contract signed. "We hereby certify that in accordance with clause 30.2 and 30.11 of the FIDIC conditions of contract for electrical and mechanical works, the contractor has fulfilled all his obligations under the contract for defects. You are now required to make an application for a final certificate for payment," the document signed by
eEngineer
DN Kamau and Owen Waithaka for KAA reads in part.
SEE ALSO: Danger online as traffickers target helpless children
The failure by KAA to procure services for the maintenance of the scanner, Rapiscan Eagles Gantry (G60), after the 12-month warranty for the contractor expired is said to have led to its breakdown, therefore exposing the airport. Magnate Ventures' manager in charge of projects, Mercy
Michere
, wrote to KAA on February 16, 2017, and informed the authority of their diagnosis and recommended the faulty high-voltage power supply unit and Pulse Forming Network be replaced. "We further gave a quotation for the repairs but were rejected by yourselves on the claim that the G60 was still under warranty. Please note that the defect liability period for this contract was 12 months and by the time this fault occurred, the G60 had been in operation for 15 months, consequently not under warranty," said part of the letter.
Ms
Michere explained that throughout the warranty period, their engineers had been offering both preventive and corrective maintenance so the firm met its contractual obligations.
Multiple faults
She added that any repair or maintenance should be on KAA's account, and offered to do the work within 14 days for the engineer to travel to the country for the same.
SEE ALSO: DCI probes Nzoia bosses over Sh961k scandal
"We again strongly recommend the need to have a maintenance contract in place," she added. On May 9, 2019, Rapiscan wrote to KAA saying the scanner needed more work than was originally anticipated due to multiple faults and issues that had occurred over time due to lack of regular maintenance. "It is our recommendation that the system
be
replaced under a service maintenance contract which will see it receive the highest level of support and maintenance. A contract proposal can be provided and tailored to suit your needs whilst meeting any budgetary restrictions that you may have," said the firm's service coordinator, Jonathan Henshall. He listed a number of works required to be done, including full system annual preventive maintenance, full Linac annual preventive maintenance
and
full system survey. In a rejoinder on May 22, KAA Managing Director Jonny Andersen declared the need to issue a tender bid document to the supplier in accordance with procurement laws.
SEE ALSO: Detectives nab two suspects for conning man Sh72,000