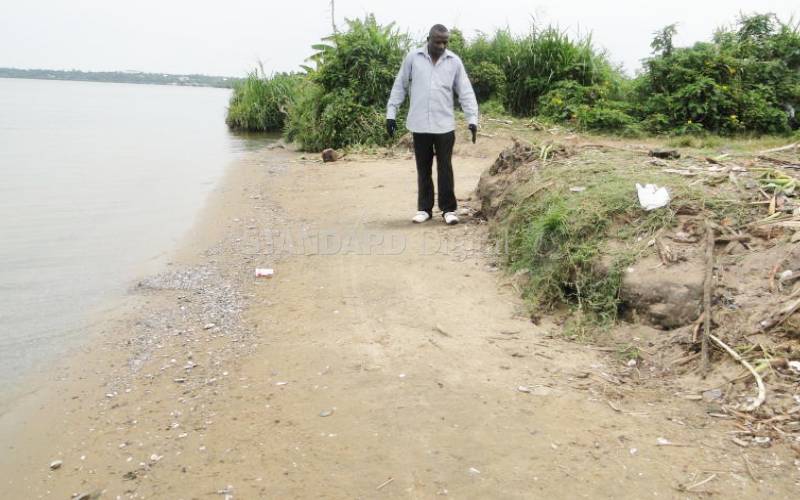 Business News
The dealers scoop sand on private farms between 1am and 4am and later pass police roadblocks without fear.
Sand harvesting continues to thrive along Lake Victoria beaches in Bondo sub-county despite a ban by National Environment Management Authority (Nema). The sand harvesters are involved in massive environmental degradation affecting the beaches and nearby farms. In June, Nema imposed a ban on sand harvesting as part of its effort to stop wanton destruction of farms and environmental degradation. Nema County Director William Odeyo said that all sand harvesters were operating without licences.
SEE ALSO: Why lawyers want Uganda to pay for Lake Victoria damages
"We have issued orders to some of the harvesters but many of them have turned to unorthodox ways to beat the ban," said Odeyo. A spot check by
The Standard
in Kanyibok and Goye beaches established that sand harvesting is still going on secretly. The dealers scoop sand on private farms between 1am and 4am and later pass police roadblocks without fear. Alex Aluga, 56, whose farm has been affected by the illegal sand harvesting, wants the Government to come to their rescue. According to the national sand harvesting guidelines 2007, on-farm sand harvesting and lakeshore/seashore sand harvesting should not exceed six feet in depth.
SEE ALSO: Blow to KPA as swelling waters consume jetties
Even though extraction is rendering agricultural land barren, some sand harvesters insist they always get prior permission from landowners. "We have always sought consent from landowners. The deals are done above board and follow due process. This is like any other business where willing seller meets willing buyer," said a sand miner at Kanyibok.
No consent
However, he said in some cases, mining takes place without the owner's consent, especially if he/she is not at the farm. "These are isolated cases carried out by rogue harvesters who are in a hurry to make a killing. They scoop sand anticipating to pay the owner at a later date," he added. Solomon Otieno, chairman of Goye Beach Management Unit, challenged the Government to establish proper structures for sand harvesters.