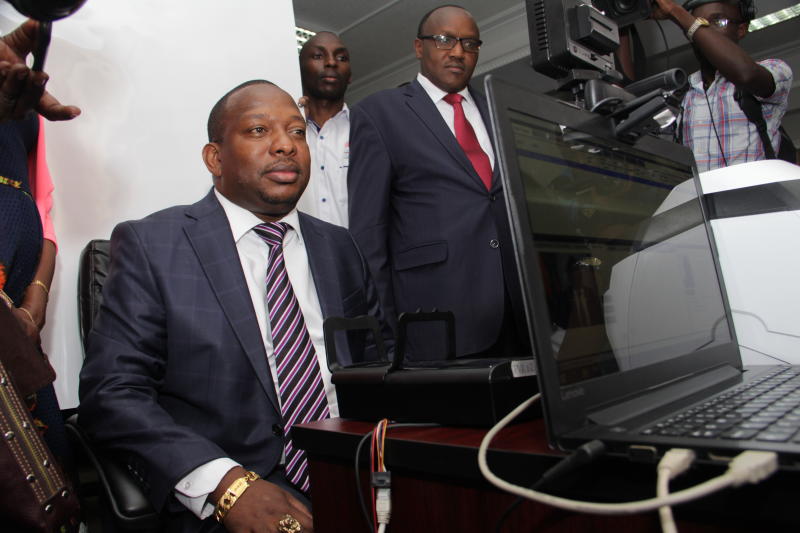 City Hall has invited applicants for 14 positions a day after Governor Mike Sonko reshuffled his cabinet. In an advert appearing in the dailies, the County Public Service Board advertised the position of the County Secretary/Head of Public Service to serve for four years. The position is currently held by Pauline Kahiga in acting capacity. Kahiga also doubles as the agriculture and livestock executive. The board further advertised 10 Chief Officer positions with the successful applicants expected to serve on contract.
SEE ALSO: State not keen to demolish Langata houses
Last week, Governor Sonko declined to renew the contracts of all chief officers saying that a number of them were out to advance their own agendas as opposed to service delivery. Appearing before a Public Accounts Committee, however, Acting County Secretary Pauline Kahiga on Tuesday revealed that the Governor Sonko had renewed the contracts of 11 chief officers out of a 19 with the other 8 yet to know their fate. She, however, did not disclose the names of the chief officers. The board is also seeking applicants for the Director of Procurement position. The monthly salary scale for the successful applicant will range between Sh118,290 to Sh157,160 plus an additional Sh50,000 for house allowance and another Sh16,000 commuter allowance. Applicants must have served for at least 10 years in supply chain management or in comparable and relevant position in the public sector.
SEE ALSO: Start offering holiday tuition, teachers urged
The position fell vacant after governor Sonko sent 30 procurement officers on forced leave accusing them of inflating prices and issuing Local Purchase Orders without approval. Two positions for the Deputy Director Procurement have also been advertised. The monthly salary scale of the positions range between Sh97,320 to Sh130,420 plus an additional Sh45,000 in house allowance and another Sh14,000 in commuter allowance. Sonko also reshuffled his cabinet for the fifth time since he took over at City Hall. In the changes, Larry Wambua was moved from the agriculture and livestock docket to devolution and public management service. Pauline Kahiga, who is the acting county secretary will now head the agriculture and livestock docket.
SEE ALSO: Chakwera to address Malawians after public outcry over new Cabinet
Other CECs in Sonko's cabinet are Allan Igambi (Trade), Newton Munene (ICT) and Lucia Mulwa (Education), Charles Kerich (Finance and Economic planning) and Environment (Vesca Kangogo). The latest changes come barely a month after Sonko transferred Kerich to the finance and economic planning docket replacing him with Winfred Kathangu at the lands and urban planning docket. Additionally, the water docket has been merged with environment which is headed by Vesca Kagongo who was reinstated in April. Sonko has also appointed Christine Ireri as the county attorney in acting capacity replacing David Oseko who was also serving in acting capacity. Former ICT Chief Officer Halkano Waqo was appointed chief officer for finance. The changes were confirmed yesterday when Kahiga appeared before the Public Accounts Committee where she introduced herself as the Agriculture CEC. "I am now the livestock and agriculture CEC. We swapped places with Mr. Wambua who has gone to devolution," she said.