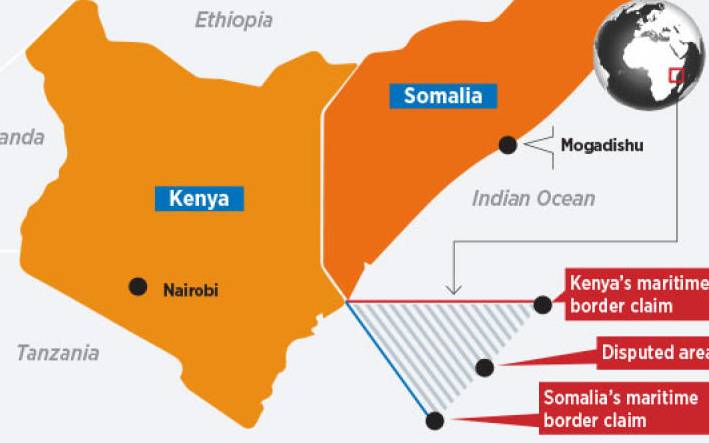 Fresh details are emerging that Somalia floated for auction minerals within Kenya's territorial waters alongside four contested oil blocks. A document named 'Offshore Somalia 2019' and leaked from Somalia's Ministry of Petroleum and Mineral Resources shows five oil blocks in Lamu are a part of those Somalia has floated to investors. Although Somalia has been silent even as Kenya is working to protect its interests, the document details a plan with January 1, 2020 as the date the successful bidder will start exploration. Somalia floated for auction 15 blocks.
SEE ALSO: US envoy entangled in land tiff
Those offered for auction include blocks 131, 142, 152 and 153 located in Galmudug and referred to as Obbia Basin, blocks 164, 165, 166, 177, 178 and 179 in Hirshabelle referred to as the Coriole Basin, and blocks 189, 190, 204, 218 and 219 located on the Lamu Basin, which is Kenya's territorial waters. After January 2020, the document shows, successful companies will mobilise to start their oil exploration over a period of four years. There will be an extension of two years and final renewal of another two years after which the blocks will revert back to Somalia. Although Somalia sued Kenya, at the International Court of Justice, over the contested maritime boundary, the document shows in September 2019, the country will be publishing its final version of the Production Sharing Agreement (PSA). This is the same month the case is expected to be heard. On July 4, 2019, the document shows, there will be a final questions session between Somalia and interested bidders. Applications for exploration rights will close on July 11, 2019 while block delineation is already ongoing. "The exploration block map is ready. The area of each block is maximum 5,000 Km square and represents one PSA," the document seen by The Standard reads in part.
SEE ALSO: Fund and own research as we fight Covid crisis
It emerged Somaila had also reached out to firms that had cut ties with it to restart their exploration activities. Some expressed willingness. The document shows prior to the breakdown of Somalia in 1991, giant International Oil Companies (IOCs) had taken possession of large acreage of its onshore territory with exploration having started with 40 oil wells having been drilled. Interestingly, Somalia officials, while offering tenders for hydrocarbon exploration in February 2019 in London, were quick to inform bidders that previously gathered seismic data was incorrect due to use of wrong geologic models. Somali leaders asserted the correct data could only be availed by "select government officials and spectrum for marketing purposes." August 29, 2019 is registered as the final date for the ministry of Petroleum to qualify operators and non-operators of the oil blocks.