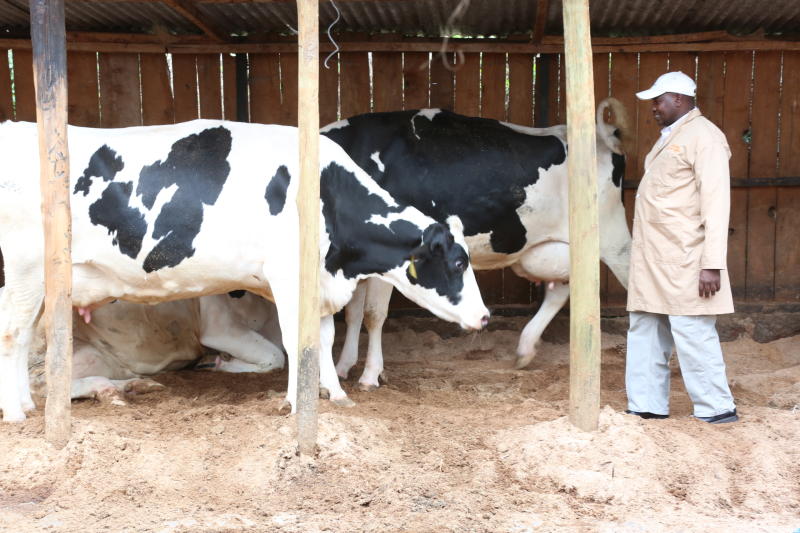 When it comes to dairy farming, Timothy Kinuthia's passion shines through everything he says and does for his animals.
For Kinuthia, the love for rearing dairy cows was passed down to him by his father who owned a herd of 100 cows and spent his life tending to his animals professionally and as a past time.
An expert breeder, Kinuthia's father was a farm manager for large scale dairy farmers in Kiambu County before he relocated to Nyeri County to start his own farm.
He is also a trained agronomist.
"I bought my first two cows in 2004, and by 2015, I had 37 cows, it was at this point that I was sponsored by an organisation to attend a three-month intensive dairy management course in Netherlands," Kinuthia explained.
Read More
The training changed his approach to the dairy sector, and when he returned to his farm, everything changed.
"One of the things that I learned while abroad was that your cow is your factory and what raw materials you put into your cow determines production," he added.
His farm has 42 cows and of this 17 are being milked and produce 450 litres of milk a day.
At his farm in Kamuyu, Nyeri town, Kinuthia's farm runs in precision and farm hands have to strictly follow the schedule set up for each animal and their calves.
"One of the key aspects of a successful dairy farm is to ensure the cows are well fed, animals don't overeat so we ensure their feeding troughs are well replenished throughout the day. They eat only what they need plus they know their feeding times," he noted.
The most critical stage for any dairy cow is from the day they are born till they are 90 days old, he explained.
"At this point, how you treat your animal will determine the quantity of milk if it is a heifer it will produce in future, unfortunately many farmers neglect their calves, and this is where they go wrong," Kinuthia pointed out.
Dairy cows, he said, thrive based on the quality of feeds they consume and the time they are fed.
Kinuthia makes his animal feeds and prepares silage that can last for at least eight months.
One of the crucial tips that Kinuthia has employed for the success of his venture is to ensure the feeds are always available. He advises farmers to feed their animals on different feeds based on the season.
"Cows resist changes to their diets because it takes two weeks for the rumen bacteria in the cows stomach to adapt to new feeds, this drops production and affects the farmer in the long run," he said.
In addition to a proper diet, animals need to live and sleep in clean spaces. Also, farmers should ensure that the person handling the animals is not changed unnecessarily. Cows love consistency, he said.
"Animals can sense when their handlers are changed and they become apprehensive, also when they are mistreated and uncomfortable, they become stressed and reduce milk production," Kinuthia stated.
Kinuthia is also a registered inseminator. "I am a registered breeder with Kenya Animal Genetic Resource Centre, each year I sell five to 10 in calf heifers to other farmers," he said.
While all the animals on his farm are pedigree with a clearly documented lineage, one of the unique breeds he owns is the American Ayrshire.
"I have three of these animals, however while they are unique, and large, they are good for both dairy and beef but I wouldn't recommend the breed for anyone interested in high milk production," Kinuthia explained.
All the animals in his farm produce an average of 35 litres of milk a day after their first calving. The cows are also clearly tagged on each year, indicating their lineage and their name and date of birth for identification purposes.
His farm also serves as a demonstration farm for farmers and university students and other professionals interested in dairy farming.
One of the challenges facing dairy farmers is erratic rainfall patterns which affect the availability of feeds for the animals.
"This was an unusual season because the rains failed across the country. The delayed rains have affected my feeding plan which means more cost. I usually stock feeds that last for me for eight months which is two seasons, however now I need to extend the feeds to nine months," he explained.
The secret to running a successful dairy farm, he said is to anticipate the needs of animals before owning one.
"Prepare the feeds and location where you animals will live and always plan ahead. That way you will not become a slave to your animal, where you are always running around looking for its next meal," he noted.