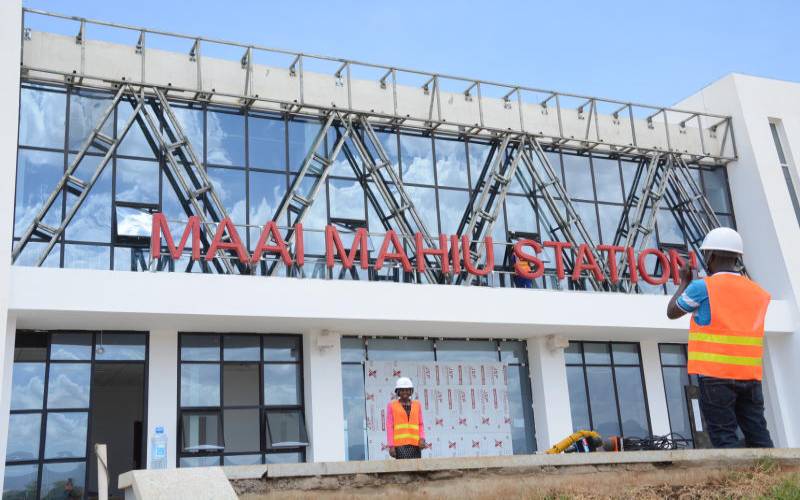 Extension of the 120km Nairobi-Naivasha Standard Gauge Railway (SGR) will now be completed in August and not June as earlier projected.
The delay will cost the government extra cash with the delay blamed on the compensation wrangles around the 5kilometre section in Ngong area.
This came as it emerged that 90 per cent of the works on the modern railway line was complete with various passenger terminus already ready.
According to Chinese Communications Construction Company (CCCC) communication officer Jasper Lui, they were optimistic that the row in Ngong would be resolved soon.
Addressing the press after touring the Mai Mahiu and Suswa stations, yesterday, Lui said that they were working with the State agencies and the affected persons to resolve the issue.
Read More
"We expect the railway line to be complete by August depending on the compensation row in Ngong as already 90 percent of the project is complete," he said.
During the visit, the senior officer reiterated that the railway was safe despite being constructed in an area where volcanic activity was still active.
Lui said other earthquake resistant measures incorporated in the construction of the rail included building the railway track on a wider sub-grade - the foundation on which the track is built on.
"The sub-grade and slope in the SGR Phase 2A are relatively higher and wider in comparison to Phase 1 from Mombasa to Nairobi," he said.
The sentiments were echoed by head of design in CCCC Engineer Xue Zhiming who said that they had involved geologists and others earthquake experts before the project kicked off.
He said during construction of the project the contractor determined the safest seismic fortification to be implemented in the construction was to meet an earthquake resistance intensity of 8, in the area between Embulbul – Ngong and Duka Moja – Narok.
"When we began planning the construction of the SGR Phase 2A, we mobilized many seasoned geologists from the renowned China Seismological Bureau and to conduct a thorough geological survey in the seismic belt along the railway line," he said.
He noted that the railway would not be affected since the earthquake resistance intensity used in construction was set considerably higher than what was ideally recommended.
"In the unlikely event of the rail corridor experiencing an earthquake similar to the 2008 Chinese Great Sichuan earthquake, it is guaranteed the railway line and other supporting infrastructure will not be destroyed," he said.