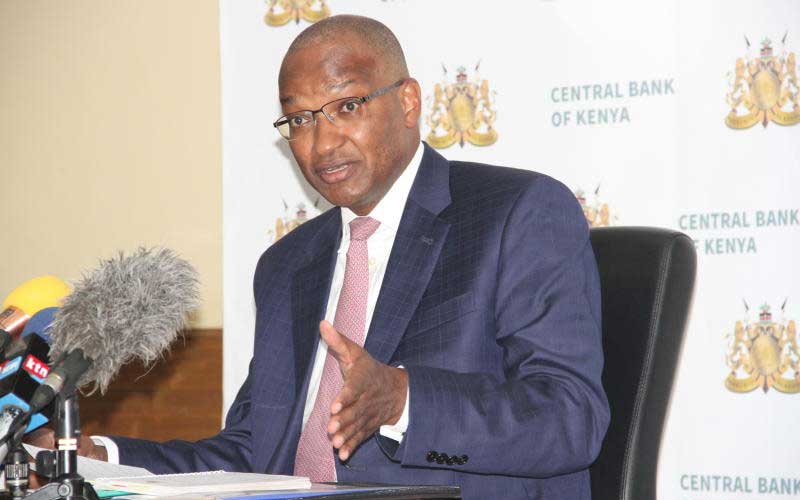 MPs have threatened to reverse stringent measures by the Central Bank of Kenya requiring full disclosure on cash transactions exceeding Sh1 million. The MPs claimed that the rules requiring disclosure of sources of cash and intended use have inconvenienced many, prompting some to avoid banking the cash. The MPs said some banking regulations were illegal as they did not have Parliament's approval, as required by law. They accused CBK Governor Patrick Njoroge of operating with "impunity" and threatened not to renew his term when it ends in March.
SEE ALSO: Top CEOs optimistic of economy rebouncing
The National Assembly's Finance Committee, chaired by Joseph Limo, has summoned Dr Njoroge to appear before it tomorrow, failing which "Parliament will take action". "We gave the CBK a second chance to bring the regulations but he has failed … they engaged us in a cat-and-mouse game. We have issued the last invitation," said Mr Limo. He claimed that Kenyans were being harassed by banks and could not get access to their money. The regulation, which took effect in 2016, requires anyone withdrawing or depositing more than Sh1 million ($10,000) to fill in a special form stating where the money is from or going to, who they are paying or receiving the money from and for what purpose.
Suspicious transaction
SEE ALSO: Njoroge: CBK has 'plenty of firepower'
Where a customer is unable to provide the information, the bank is required to immediately file a suspicious transaction report with the Financial Reporting Centre. Yesterday, Kenya Bankers Association (KBA) Chief Executive Officer Habil Olaka said the regulations were in line with global requirements to counter money laundering and terrorism financing. Dr Olaka said the banking industry had no problem with the rules as they were meant to safeguard their systems. "We are part of the global system that seeks to insulate the industry against money laundering and financing of terrorism," he said. During heated debate in Parliament, Suna East MP Junet Mohammed – who moved the motion – said the regulations were stifling business.
SEE ALSO: Banks restructure loans worth Sh844.4 billion
He claimed that some people had resorted to keeping money in the house because of the "prohibitive requirements". "What the CBK governor is doing is unacceptable and illegal. You can't just wake up one morning and do irregularities in form of circulars and memos to financial institutions," said Junet. "We are not supporting illicit trade and money laundering when genuine business is being frustrated, we can't keep quiet." He asked his colleagues not to renew the governor's contract when it expires in March for stifling market liquidity. Majority Leader Aden Duale and his Minority colleague John Mbadi said the regulations had made it "a hell" to transact with banks. "When I received my mortgage, Barclays Bank asked me to explain where the money came from. When you sell your three camels, you are asked where the money is coming from." He said there were anti-money laundering laws and the Financial Reporting Centre that dealt with suspicious transactions. Mr Mbadi narrated how he went through "hell" to transfer his mortgage. "If I am transferring money from my account to another, why should I explain the source? These regulations were implemented without the input of Parliament," he said. Tongaren MP Eseli Simiyu defended the regulations, saying people must state their sources of income. "In any case if this money is yours genuinely, just say where you are taking it." He said the rules were meant to catch people who had "stolen our money and are busy laundering it."