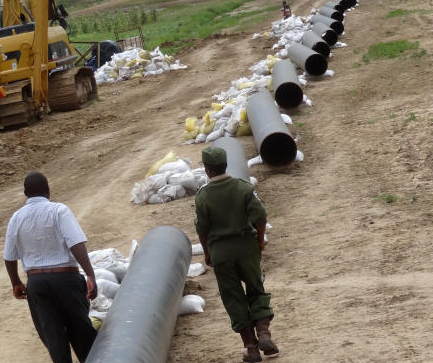 NAIROBI, KENYA:
The new Mombasa-Nairobi pipeline is set to be commissioned in July, the Kenya Pipeline Company (KPC) has said. The Sh48 billion pipeline known as Line Five has been under construction since 2014. It has been undergoing test-runs after its recent completion amid concerns over its delays that increased construction cost. Four new pump stations in Changamwe, Maungu, Mtito Andei and Sultan Hamud, as well as two booster pumps in Kipevu have been installed.
SEE ALSO: Faces behind the flawed SGR procurement
A new firefighting system, along with other energy efficient equipment and pipeline monitoring technologies, have been installed to introduce efficiency and safety in fuel supply logistics in Kenya and the region. In a statement, KPC Managing Director Joe Sang said on Friday the Line Five pipeline project, which is also the country's second largest infrastructural undertaking after the Standard Gauge Railway, was a game changer for the country, as it would boost regional competitiveness. "Kenya had over time lost its competitive advantage and market share in the region due to the time taken to deliver products by road and the capacity of the old pipeline, which kept breaking down. In effect, the project will also lower the cost of road maintenance by eliminating over 700 trucks from the road daily at maximum utilisation," said Mr Sang. On Friday, the parliamentary Public Investment Committee toured the Vision 2030 flagship project and announced that those behind its delays would face sanctions. Committee chairman Abdulswamad Shariff Nassir said the team was satisfied with the project and was looking forward to its commissioning. "I want to announce to the country that in 10 days' time, product from Line Five will be in Nairobi. This is a big achievement for the people of Kenya," said Mr Nassir.