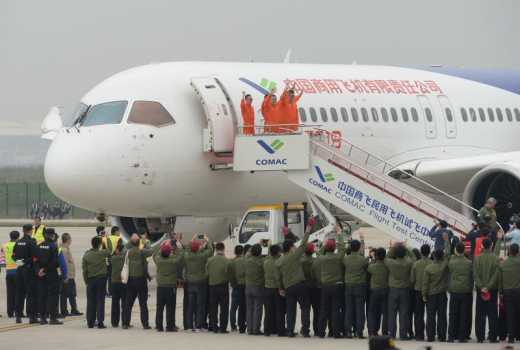 My visit to China provoked the economist in me. Let us leave the cultural part of the country, from Forbidden City to Great Wall, and focus on the economic China which seems an enigma.
How did the Chinese economy grow so fast, embracing capitalism while the political system remained intact, not different from the founding days of Chairman Mao Zedong? How did new wine fit into old wineskins, the Communist Party of China?
I just got a book, "Exploring the miracle: The truth Behind China's Modernisation" written by Wang Xiangsui. But my thoughts on why China will become an economic giant will not be based on the book. I will read it after this write-up inspired by my visits to China. I can later compare my views with those of Xiangsui.
Could the watershed in China's economic growth be attributed to a statement by Deng Xiaoping "being rich is glorious"? That was towards the end of the Cultural Revolution and after the death of Mao. It will remain forever a conjecture how China's economic growth trajectory would have been without the revolution. Was it the shock therapy China needed to take off?
Tomas Hirst, who once worked for the World Economic Forum, noted in 2015 that "11th Central Committee of the Communist Party in December 1978 was the defining moment in shifting the country from its unsteady early economic trajectory on to a more sustainable path. It laid the groundwork for future growth by introducing reforms that allowed farmers to sell their produce in local markets and began the shift from collective farming to the household responsibility system."
Ralph W Huenemann notes that from 1978, the economic system was reformed and China opened up to the outside world.
CATALYSED GROWTH
Two other events further catalysed Chinese economic growth and the shift to market system despite guidance of "Socialism with Chinese characteristics." One was the reopening of the Shanghai stock exchange in December 1990 for the first time in over 40 years. Two was the accession of China to World Trade Organisation (WTO) in 2002, which opened Chinese market to investors.
And they came. Western and Eastern brands seem to have been knocking on China's door waiting for them to open. Brands such as Hilton, Ford, Jeep, Peugeot, Toyota, Nissan, VW, Hyundai, Estee Lauder, Shiseido and others are present. Without world renowned firms, Africa seems to have lost in this lucrative market.
Beyond this wave of investment, what else will make China the next economic power, displacing USA as the world's number one? Here are my thoughts.
One is the population. Economics is about people, the consumers and investors. China, with 1.4 billion people, is a big market. Salvatore Babones, writing in "Foreign Policy in 2018" notes that Chinese middle class (Chinese rarely use the term) will increase from 430 million today to 780 million in the mid-2020s. This is a market any firm would salivate over. For comparison purposes, the population of USA was 326 million and that of EU 500 million in 2017. The low population in Russia might be what made it unattractive to investors unlike China after end of the Cold War.

Two is strong governance; avoiding the "niceties" of democracy. It is the path other Asian Tigers followed before China. Removing the constitutional limit for the Chinese president or chairman is perhaps another aspect of avoiding the niceties of democracy, creating a trade-off between faster economic growth and the "chaos" of democracy.
Three is discipline. On the streets and even in class, the Chinese have lots of discipline and respect for authority. That would be a great asset if taken to the work place.
Four is focus on STEM. China long realised that economic progress needs a science and technology base. Though accused by USA of stealing intellectual properties, China has built a solid science and technology base going by the patents registered, research papers and brands such as Huawei, JAC and BYD. World Economic Forum (2016) says that China now graduates more university students in the fields of science, technology, engineering, and mathematics than any other country – about 2.5 million students per year, or about five times more than the US. Specialised universities are also driving the research agenda.
Five is diplomacy, which has endeared China to other countries. China has no legacy of military adventures abroad like USA in Iraq or former Soviet Union in Afghanistan. She has no legacy of colonialism.
Six, long history serves as an inspiration. The nation traces its origin to 221 BC through unification under the Qin Dynasty. If you do not believe it, visit the Forbidden City and Great Wall. The long history has forged the country into one nation.
Seven, China though with 56 minorities, is generally a homogeneous nation with Han as the majority making up over 90 per cent of the population. Others include Hui, Manchu, Uighur, Miao, Yi, Tujia, Tibetan, Mongol, Dong, Buyei, Yao, Bai, Korean, Hani, Li, Kazakh and Dai.
CHECKING CORRUPTION
Eight, checking corruption. The rise of market system in China anticipated corruption and its excesses. It has generally been checked unlike in other countries that shifted to market economy, such as Kenya and Russia.
Lots of people are rattled by the rise of China, fearing that economic growth might tempt her to flex her muscles beyond the borders like other powers in the past. I think the Chinese, just like the Japanese, are more interested in economic power, not adventurism. I do not expect to see Chinese colonies soon, unless in space. The investment in the military including the building of J20 - a stealth bomber - is more defensive, China says.
There are indicators that Chinese economic growth could slow down as the country modernises. Productivity growth is likely to slow as China catches up with the West. Labour becomes more expensive because of reduction in productive work force and competition from other regions. Could it be the reason the One Child policy was relaxed?
Initiatives such as the One Belt One Road programme could forestall the slowdown of the Chinese economy. Keeping the current economic impetus, China could overtake the US by 2032 to become the world's biggest economy, says Bloomberg. Others say by 2030. From my Chinese visits, it could be earlier.
Finally, my views on China are informed by a visit to Beijing and Shanghai, the two biggest urban centres whose combined population equals Kenya. I need a visit to rural China to see and feel the "soul of China." We hope that Kenya can learn a lesson or two from the Asian nation. After all, the two countries share a lot in common including being ruled by outsiders. For Kenya by Britons, for China by Mongols and Manchus.