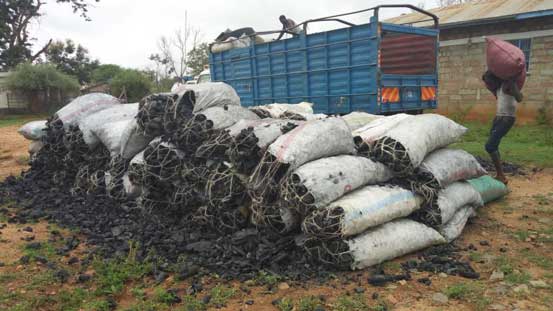 Business News
The high cost of charcoal has occasioned change of lifestyles in some of Nairobi's informal settlements.
NAIROBI, KENYA:
Purity Kawira is 37 years old. Since arriving in Kibra 20 years ago, the mother of six has relied on charcoal for cooking and warming her house. "I rely on charcoal because it is cheaper than gas, kerosene and electricity," says Kawira who also operates an eatery at Nairobi's Kenyatta Market. "I use charcoal in my house and in my eatery," she says even as she bemoans the recent ban on Africa's precious commodity.
SEE ALSO: Every day's a Sunday as Kenya's power demand drops
To her, charcoal is like a tranquilizer, one which makes life slightly bearable for many like her. "I don't think I will make a profit in my restaurant business if I stop using charcoal. Of late, I have been forced to use kerosene and the extra cost is eating into my small profit," complains Kawira. Like thousands of city dwellers who rely on charcoal, Kawira has been forced to dig deeper into her pockets to buy
charcoal.
The price of charcoal hit the roof following the recent logging moratorium and ban on charcoal trade in some counties. A two-kilogram tin that initially went for Sh50 is now trading at Sh100 in the city. This means charcoal has suddenly become more expensive than kerosene, which is retailing at around Sh80 per litre. A 35 kilogram sack today sells for between Sh 3,200 and Sh 3,500.
SEE ALSO: Kenya power gives update on nationwide outage
Some residents are now trying any cheaper alternative, some of them quite risky. In Kibra for instance, where most households are beneficiaries of 'stolen electricity' from Kenya Power and Lighting Company (KPLC) grids, electric coils are on demand. This has led to increased cases of illegally tapping electricity. Kelvin Olale says when pushed to the limit, residents will always come up with survival tricks. "God forbid, what happens in case of an electrical fault resulting from illegal connections?" poses the leader of Mugumoini Youth Chapter. Irene Akoth is one of those who switched to electric coils because she cannot afford Sh100 for a tin of charcoal.
SEE ALSO: Kenya Power: Power back in Nairobi CBD, fault being rectified
"Apart from buying the coil, I pay nothing else, neither am I charged for the power consumed. The only fear is my children are exposed to danger," says the mother of three. The high
cost of charcoal
has occasioned change of lifestyles in other informal settlements in Kangemi, Kawangware, Mathare, Mukuru kwa Reuben, Mukuru kwa Njenga, Lunga Lunga, Soweto, Dandora, Kayole, Korogocho, Matopeni, Maili Saba, Mwengenye, Kiambiu, Kuwinda and Githogoro. George Avulala for example has decided to do away with his routine habit of warming bath water to minimise costs. "I no longer warm water because charcoal is now expensive and scarce," says the resident of Lunga Lunga. Charcoal remains the most popular source of energy in most city homes, hotels and several institutions. It is locally available, easy to use and cheap. For the poor and middle class in urban areas, charcoal is a reliable, convenient and accessible source of energy.
SEE ALSO: Nationwide power blackout blamed on system hitch
Jonah Marpash, chairman, Hurlingham East Residents Association (HERA) says most residents use charcoal to warm homes and beat the cold. The commodity is also useful whenever households host parties and ceremonies, according to the official. "Though I support the ban, I am aware many homes and business enterprises in our estate depend on charcoal. Electricity, gas and kerosene should be made affordable. Alternatively, the forest cover should be increased significantly. In our area, we have embarked on a tree planting campaign," states Marpash. Following the three-month ban on logging, the price of the commodity has sharply increased. The main sources of charcoal are Kajiado, Kitui, Kilifi and Tana River counties. But county administrators have banned the production and sale of charcoal with strict enforcement. The government sanctioned the moratorium following a drop in water levels. Before the ban, a sack fetched between Sh1,400 and Sh1,700. "I usually get my stock from Bisil in Kajiado, but in the past weeks, the supply has not been predictable," says Saidi Nkasiogi, a charcoal dealer based in Kayole.