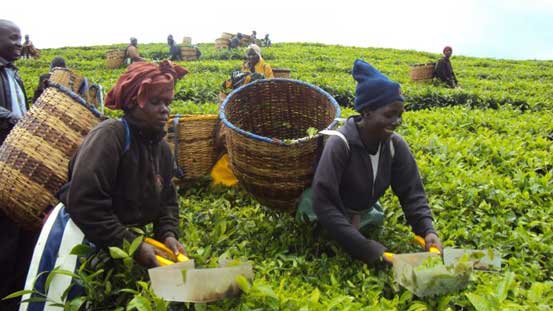 NAIROBI, KENYA: Kenya Plantation and Agricultural Workers Union (KPAWU) has criticised a court decision ordering tea pluckers to harvest an additional 300kg of green leaf a month.
In a month, a tea plucker working for any of the multinational companies harvests at least 846kg of tea.
A three-judge bench at the Court of Appeal comprising Justices Martha Koome, Alnashir Visram and Wanjiru Karanja last Friday ruledthat each of the estimated over 40,000 workers must pluck at least 1,170kg a month.
The judges, sitting in a Nairobi court, also slashed the 30 per cent salary increment the workers had been awarded at the Kericho High Court to 16 per cent.
"How could the Court of Appeal judges adjudge a tea picker to pluck more than a tonne of tea in this modern age and era? What criteria did the judges use to arrive at the decision that a tea picker can pick more than 1,170kg of tea a month?" posed KPAWU deputy Secretary General Meshack Khisa.
Read More
Khisa, who doubles as the union's legal counsel, said in the master-servant relationship, the court's decision encourages the multinational tea companies to enslave Kenyan tea workers.
"As an officer of the court, we want to appeal to our magistrates and judges that we go before them to determine issues... the issue is not an ordinary disagreement," said Khisa.