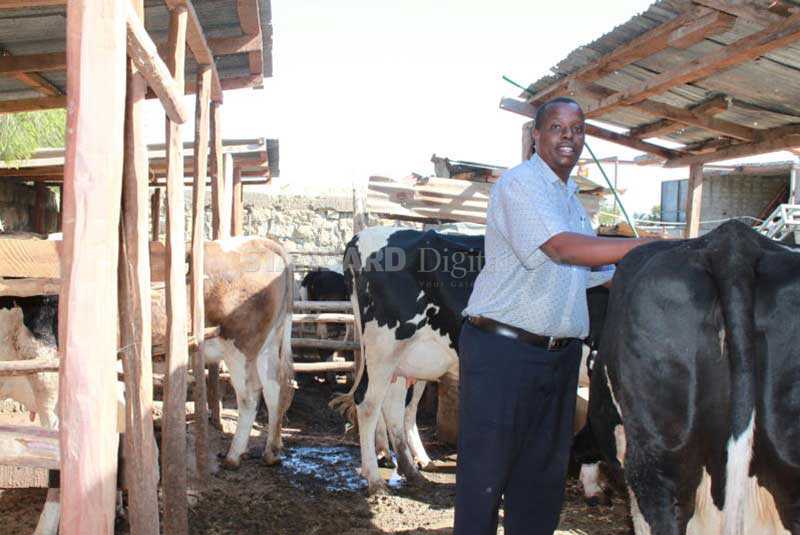 Tired of routine and predictable life of a white-collar job, one restless young man did what other daredevils wouldn't do. He quit. One minute Paul Ngugi, 40, was this high-flying lab manager on-the-go at a private hospital and the next he was without a job but with a brilliant agribusiness idea that if well executed, would foot his bills and transform lives. That was 17 years ago. "I was tired of the routine at the lab. Receiving specimen, testing it, writing reports and making recommendations. It was so routine, there was no thrill. Every day was the same. I was pushed to the brink," Paul Ngugi opens up during the interview with Smart Harvest at his farm in Mai Mahiu, Nakuru County. Using the resources he had mobilised, skills and exposure from work and various international travel, Ngugi came up with an admirable 'agri business conglomerate' where he rears fish, several high-yielding dairy cows and runs a mini workshop where he constructs aquaponics farming systems for sale. "I can say I am a jack of all trades. As you can see, I have several dairy cows in one corner, I have this fish pond here and I also create aquaponics systems for farmers. I also train them on how to set it up and make money out of it," Ngugi says.
SEE ALSO: Coffee farmers wary of Sh3 billion bailout
Decorated agri-prenuer
So impressive is his farm that in 2012, President Mwai Kibaki decorated him with a presidential award for his innovations in agribusiness. That's not all. He has also slided into maggot farming. "Yes I know it sounds creepy, but maggots are great feed for fish. They are cheaper and growing them is easy. That's my new baby," Ngugi, one of the early beneficiaries of the Youth Fund, says. With all this prowess and brilliance, the question that begs is where did get this expertise? "I have been lucky to have travelled far and wide. In one of my travels in Israel, I visited this remarkable farm where all these fascinating things were happening.
SEE ALSO: A-Z of making good cash from rearing kienjeji birds
"As you know, Israel is king when it comes to smart use of limited resources like water and land. Here is where I learnt how to construct aqua system. I have also done extensive research and attended various trainings to build my capacity," Ngugi says as he takes visitors on a tour of the half an acre wonder. At the modern dairy unit, Ngugi keeps healthy seven cows -five freshians and two Fleckviehs, a breed of dual-purpose cattle suitable for milk and meat production. What stands out at the dairy is the level of hygiene. "For us hygiene is everything to keep diseases at bay. I have trained my farmhands to keep the floors in the pens clean and dry to keep away flies that bring diseases," he explains to the team. How they beat mastitis Mastistis is the biggest headache for dairy farmers because it strikes where it pays most – the udder.
SEE ALSO: Lessons from farming ventures started with less than Sh10,000
So how do they keep it at bay? "First is hygiene. Everything must be clean around the cows including the farmhand whose handling the animal. Two, we always make sure there is no incomplete milking. Mastitis occurs when milk already in the teat cistern is not expressed out completely," he educates us. Thanks to best practice, Ngugi gets about 80 litres of milk which he sells within the town. He plans to tap into value addition and start making yoghurt. The showstopper at the farm is the mini workshop where he assembles aqua phonics system that allow a farmer to run a hydroponics and aquaculture unit.
So how does such a unit work?
The aquaponics system combines a hydroponic (unit that grows crops without soil) and aquaculture (fish pond) unit in one same space. He explains that aquaponics presents an integrated farming system. Here, waste from fish is used as fertiliser for plants and plants purify the water by removing the nutrients increasing oxygen concentration.
Day thugs attacked
"Waste from fish contains nutrients which are essential for plant growth," says Ngugi, a father of three. According to him, water containing waste from the fish is pumped to the plants, then the plants absorb nutrients from the water, in the process cleaning it before it is pumped back to the fish. The system can be customised to fit any kind of space; from that small space in your backyard to a greenhouse. Ngugi says if the country was to adopt the aquaponic system, it would address not only food insecurity but also create employment for thousands of youths. He has not been without challenges. Sometimes last year, together with his wife, he was car jacked at his home gate. "The thugs waited until the gate was opened then 15 of them entered with us inside the compound. They ransacked our home and later put us in the car boot and drove off," he says. He says when they were removed from the car in a bush on the way to Narok, the thugs, all young, started arguing over how to share the 'spoils'. "I was so moved. It was heart-breaking to see what joblessness had pushed them to. Clearly, it was not their wish to rob people, but it was life that had pushed them to this desperate level," Ngugi says. In that moment of reflection, Ngugi opened his mouth to plead for their life. "I promised them that if they released us alive, I would come up with innovations to create jobs for them. They were clearly impressed and released us," says the winner of the Chora Bizna Award by the Youth Fund. Within months, he had set up the mini workshop and so far, he has created 20 jobs directly and more than 100 indirectly. The unit he created comprises a 4,000litre tank, six grow beds (plastic containers) of 500 litres capacity for growing plants and a plumbing system. From his aqua phonics system, Ngugi gets 1,000 tilapia or catfish pieces of between one and one and a half kilos from each tank every six months. A single unit retails at Sh185,000. "I make Sh800,000 from the fish tanks per year from two harvests every six months. The vegetables from the growbeds also provide a sustained income," says Ngugi. He says the hurdles he faces include the cost of food for the fish. "Most of the fish foods are imported, this makes it a bit costly." And that's why he came up with the maggot project. At one point, marketing his units was also a challenge, but thanks to good referrals, now he has several customers.