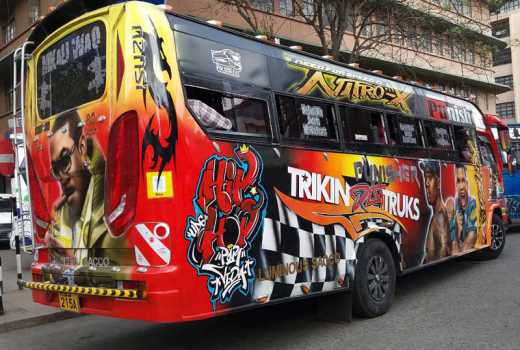 A crackdown on Public Service Vehicles (PSV) showing obscene content has begun in Mombasa.
The operation by the Kenya Film Classification Board (KFCB) officials and police officers resulted in the seizure of a notorious PSV matatu plying the Mtwapa-GPO route on Monday.
The clampdown began after a matatu crew harassed two passengers for protesting against playing of obscene music videos on Sunday afternoon.
Read More
One of the passengers sent a text message to KFCB Coast Region Manager Bonventure Kioko who swung into action.
Jason Murimi, who is the complainant, said he was with his family, including a 10-year-old daughter, when the obscene music video was playing.
"Inside, together with other passengers, we protested and asked the driver to stop playing the video but he refused. Imagine what my children saw. This is madness," said Murimi.
Vehicle impounded
Police officers and KFCB officials on Monday morning impounded the matatu at the Mtwapa roadblock and towed it to Mtwapa Police Station.
The driver and conductor were expected to be arraigned in court yesterday to face charges of exhibiting unclassified video content contrary to section 12 (1) and (2) of the Films and Stage Plays Act Cap 222.
"This is the start of action. No more talk. We would like all matatus to have the TV screens removed because they have failed to show decency," said Kioko.
Notorious matatus ply the Mtwapa-GPO, Bamburi-Ferry and Tudor-Ferry routes.
Kioko said schoolgirls stay at matatu stages for hours waiting for specific matatus.
"They know what they are looking for in those matatus. These mostly play pornographic videos," said Kioko.
Irene Mwaganda, a passenger, said the crackdown should continue to save children from further moral decay.