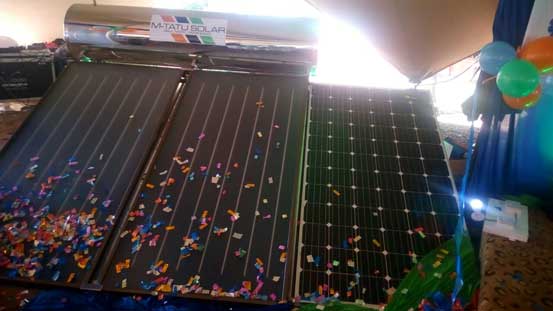 NAIROBI, KENYA: The Energy (Solar Water Heating) Regulations come into effect in November 26 and requires all existing buildings within the jurisdiction of local authorities with hot water requirements of a capacity exceeding 100 litres per day to install and use solar heating systems.
Prof Izael Da Silva says the new regulations will also see owners of three bedroom houses required to use solar for water heating.
"This is a good law owing to the fact that our country needs more power in industries and additional energy to power rural areas," said Da Silva. "Full implementation of the strategy would see more taken to areas in need."
Speaking during the launch of M-tatu solar in Nairobi on Thursday, the scholar urged Kenyans to adopt solar as a means also to protect environment from pollution.
Read More
M-tatu solar is a product of Pipe Energy, a wholly owned subsidiary of EIT Africa. Pipe Energy targets to install 100,000 units in the next five years. This represents a 5 percent market share valued at Sh17.5 billion.
Chairman Lemmy Mbogori said the sh 20 billion five-year project is a revolutionary hybrid solar system that incorporates solar for power and water heating in single affordable unit.
"It has been designed to combine the traditional Solar pv (Photovoltaic) and thermal technologies in a single unit that produces both hot water and electricity," he said.
"We have a 2-year financing arrangement with First Community Bank in Kenya which speeds up uptake and eases the burden with the country's Solar Water Heating Regulations."