Supreme Petition: Shilling loses ground after Uhuru win nullified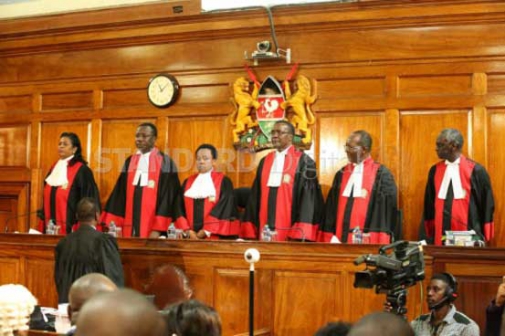 NAIROBI, KENYA: Kenya shilling on Friday slipped to 103.2 against the dollar after the Supreme Court ruling nullifying August 8 presidential election.
This is a turnaround for the Kenyan currency which has in the last one month strengthened to a five month low of 102.7 against the green back following a peaceful election.
Independent and Electoral Boundaries Commission (IEBC) declared Uhuru Kenyatta winner of the election beating his closest rival Raila Odinga by over 1 million votes.
However, Supreme Court said the electoral board committed "irregularities and illegalities" during last month's presidential vote, harming the integrity of the election that handed President Uhuru Kenyatta a second five-year term.
Four out of six judges said that the vote had been harmed by irregularities. Judges then allowed the two dissenting justices to read their opinions before giving their verdict on whether the irregularities were serious enough to nullify the election results.
Njoki Ndungu and Jecton Ojwang dissented to the ruling with Njoki Ndungu arguing that Raila Odinga (Petitioner) did not present material evidence to the standard required.
"Petition in my view did not present any material evidence to the standard required to upset results returned to the national tallying center by the presiding officers in forms 34a," said Njoki.
In her submission against the ruling, she further noted that the results counted and agreed upon by agents at the polling stations were not challenged by the petitioner. What was fiercely contested was the mode through which those results were transmitted from the polling station to the national tallying center. The first and second respondent urgued that the transmission was conducted in line with the direction of the court of appeal in the Maina Kiai case. "This process yielded results that were streamed onto the public portal and which were not sufficiently in my opinion impuned during the trial," Njoki said.
Take a quick survey and help us improve our website!
Take a survey
"The decision of the voter at the polling station was not challenged, how then a process can used to transmit those results for tallying upset will of the electorate."
To fight drought, involve communities
According to the latest information from the Meteorological Department, rainfall will be poorly distributed in April, May and June, and this will have a serious impact on agriculture