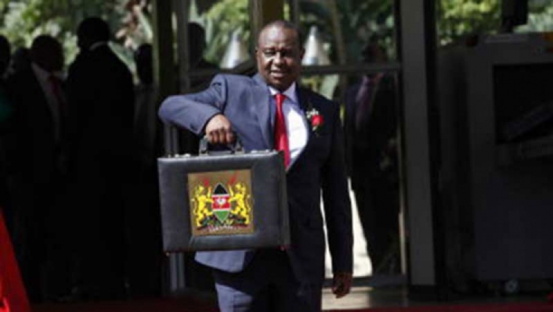 NAIROBI, KENYA: Cabinet Secretary Henry Rotich on Thursday read Jubilee's government's last budget in first-term with mixed bag of goodies.
Mr Rotich announced waiver of duty on maize imported in the next four months, exempted from tax inputs for manufacturing pesticides and announced tax exemption on tourist vehicles assembled locally.
To discourage gambling in the country, the government raised taxes in the sector (lottery, gambling and gaming) to 50 percent from the current 7.5 percent. "This will help to tame gambling in the country which has gained popularity among the youth and a large population," said Rotich in the speech.
The budget is the last in Jubilee government's first term in office. In noting the need to cut government's wage bill, Rotich announced job freeze in the public service except for critical sectors such as education.
"We have set aside Sh 2 billion for hiring of teachers and another Sh4 billion for exam waiver to 2017
KCSE and KCPE candidates," he said.
Read More
On devolution, the counties will get 329 billion, which translates to 35 percent of the total revenue raised nationally.
He issued incentives to manufacturing sector to create more employment to the youth of which Sh450 million has been set aside for modernization of Rivatex and another Sh250 million towards the modernisation of New KCC. Special Economic Zone in Kisumu, Mombasa, and Nairobi to be exempted from VAT besides infrastructure plans.
"The fiscal deficit for 2017/18 will be 524.6 billion shillings equivalent to 6 percent of GDP and will be financed through borrowing from both external and domestic resources. The net external financing will amount to 256 billion shillings, or 2.9 percent of GDP, and will be mainly on non-concessional terms."
Rotich said domestic borrowing will be 268.6 billion shillings or 3.1 percent of GDP.