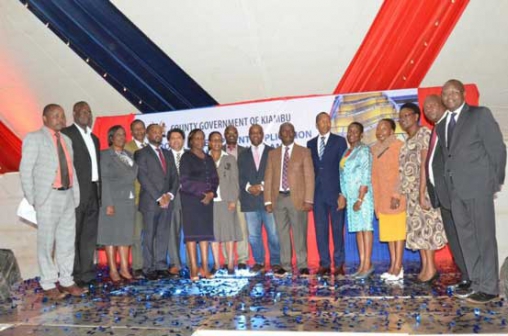 Building approvals in Kiambu have gone online, cutting the waiting time from at least three months to a maximum of 30 days. The county late last month launched the Electronic Development Applications Management System(E-DAMS), which will be used to guide development and quicken application processes. It will take 14 days to approve domestic houses or single dwelling houses while major commercial projects will take a maximum of 30 days. Approvals used to take at least three months before. "Kiambu is the fastest urbanising county in Kenya. We need to control such a growth so that we don't become a slum in the next 20 to 30 years," said David Gatimu, the Lands and Physical Planning chief officer.
SEE ALSO: Farmers uproot coffee trees to protest Sh14 pay per kilo
Kiambu County Governor William Kabogo said he was happy about the online platform, which took about six months to develop. "Even if it will render many of our untrained and non-registered people in the sector jobless, the benefits, which includes taming corruption in the ministry, far outweigh the negatives by far," said Kabogo. The platform will allow online submission of building proposals by architects and planners for evaluation and approval and automatically manages workflow to allow applications to be routed concurrently to the various technical evaluators. MILESTONE Land, Housing and Physical Planning chief executive Eunice Kumunga said the online system is a milestone for the county and would go a long way in ensuring that building and construction industry services are done fast, cost-effectively and efficiently.
SEE ALSO: Clash of egos in Mt Kenya as governors row with deputies
In addition, the system will help in the issuance of development permits, profiling of ongoing developments for inspection process, support for the planning enforcement process and data collection on inspections and archiving of all data. In March 2016, the County of Kiambu signed a Cooperation Agreement with the World Bank Group's Kenya Investment Climate Programme 2 to design, test and deploy e-DAMS. World Bank has also supported the implementation of electronic construction permits in Nairobi, Mombasa and Kisumu counties. According to Frank Twagira, the World Bank Group Manager Investment Climate Kenya, the platform makes it easy to do business. "We have piloted with the counties and later we hope to go to other counties. It is automated from planning, building permits and approvals, occupancy permits, conducting inspections online using smartphones and iPads," said Twagira. He added: "We have heard testimonies of the benefits of the platform where the process used to take four to five months now taking 30 days and we hope other counties will adopt it since it also helps in revenue collection, hence cutting out middlemen."
SEE ALSO: Hospital releases boy's body, urges family to clear bill
The counties and the World Bank share the cost of installing the system, with the county taking the bigger share. The Architectural Association of Kenya and Town and County Planners Association of Kenya have applauded Kiambu for the initiative.